Best Ice Fishing Bibs – Only the Top Rated and Reviewed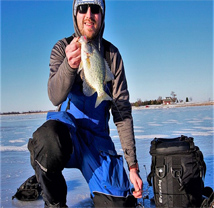 It is one thing to like fishing, but it is another to like ice fishing. Ice fishing requires special equipment due to the extreme conditions where it takes place. An ice fishing bib is a must when it comes to this type of hobby.
If you have never shopped for such an item, you might find it hard to pick the right one for you. Many people think they can get away without an ice fishing bib. And you can, but you may end up miserable and freezing, which makes your experience less than exciting.
I thought I would risk it but I had the same problem when I tried to replace the ice fishing bib with thick and waterproof clothes. They worked most of the time and would only keep me comfortable during my peaceful fishing hours.
Since I discovered the fishing bibs, I never go fishing without them! Here I will talk about what you need to know about ice fishing bibs as well as review the best products I've found.
Best Ice Fishing Bibs - Comparison Table
Product Name
Arctix Men's Overalls Tundra Bib
Frogg Toggs Pilot II Guide Bib
STORMR Men's Strykr Neoprene Bib
Eskimo Lockout Ice Fishing Bib
Preview






Preview

Product Name
Arctix Men's Overalls Tundra Bib
Preview

Preview

Product Name
Frogg Toggs Pilot II Guide Bib
Preview

Product Name
STORMR Men's Strykr Neoprene Bib
Preview

Product Name
Eskimo Lockout Ice Fishing Bib
Preview

Best Ice Fishing Bibs - Reviews
1. ​FRABILL I3 BIB
MATERIAL
This fishing bib is made of high quality breathable 300 denier nylon, which is perfect for this type of outfit. You will enjoy a professional bib that will not allow anything to go through it because it is seam sealed. There are also elastic straps that will keep the bib firmly on your body and cam lock buckles. The knees and cuffs are reinforced by an extra layer of 500 denier nylon. And on the inside, there is seat padding to make you feel more comfortable as you sit down.
SPECIAL FEATURES
You can regulate the temperature of this fishing bib thanks to the zipper vents that it comes with. Thanks to the quality materials that the Frabill I3 is made of, this outfit is waterproof, windproof, and extremely breathable.
SIZE
Luckily, you can purchase this item in a variety of sizes ranging from medium all the way up to 3x large. And they are very exact sizes as they will match the user in most of the cases.
2.ARCTIX MEN'S OVERALLS TUNDRA BIB
Another great option that you can consider is this Arctix model that also comes with a convenient price tag. It is one of the best ice fishing bibs thanks to the impressive comfort and the unique features that the wearer can utilize while wearing it.
MATERIAL
The primary material used to create this fishing bib is high-quality polyester. The Arctix includes several other paddings and reinforcements that you will appreciate once you wear it. There is even extra padding from therma-tech insulation material.
This padding helps provide the right temperature inside the bib without you getting too hot. But even despite this added material, the Arctix fishing bib is very lightweight so you can feel warm and comfy while you are wearing it.
SPECIAL FEATURES
A really neat feature of this outfit is that it comes with a D ring so you can carry your keys or gloves without the fear of losing them. There is also a 20" zipper at the bottom of the bib so you can take it off and put it back on quickly. The boot gaiters with grippers connect to your boots, keeping you dry and warm for all the time that you are wearing this outfit.
SIZE
As for the size of this item, you can choose from all sizes existent on the market. It goes from small right up to a whopping 4X large. It is almost impossible not to find your size if you are interested in this product.
3.STRIKER ICE CLIMATE BIBS
This Striker fishing bib will impress you from the first time you lay your eyes on it. And it will steal your heart as soon as you start wearing it. It is a premium item so you shouldn't expect to get it on the lower priced side of the market. However, it comes with some of the most professional features that could even save your life.
MATERIAL
It is made of 320D Tussor layer on the outside and a liner that can be removable for your comfort. It also has plenty of reinforcements to increase its durability. The sureflote insulation that this bib comes with will maintain a warm temperature inside even if the weather is pretty extreme.
There are paddings for your knees and seat paddings as well as an extra layer of 175g Thermadex that you can take off if you want to. With such materials, there is no wonder that this ice fishing bib is on the top of the list for most customers!
SPECIAL FEATURES
The unique features list is not short either. You will be glad to find out that this item comes with a Hydrapore system that makes it waterproof and breathable in a proportion of 5000/5000. This level is impressive even for the expert ice fishers. In case you fall in the water, this bib will help you float, and it can potentially save your life in certain circumstances. Plus, you get all kinds of pockets for your fishing tools and even a D ring to hold your gloves and keys securely.
SIZE
The sizes of these products are the classic medium, large and XX-large, but there is no small size. This could be a downfall, even if the medium size could work for some people who would typically choose a smaller size.
4.FROGG TOGGS PILOT II GUIDE BIB
In the world of ice armor bibs, the Frogg Toggs model is a well respected one. It will protect you from the water, and it will bring you plenty of extra comfort while you are using it to fulfill your fishing hobby. Not to mention that this bib comes at a budget-friendly price, and it is made to last for a decent amount of time. If you are a beginner when it comes to ice fishing practices, you might want to give this one a try because you will most likely be impressed!
MATERIAL
The materials used to put together this ice fishing bib are entirely waterproof, and they come in three layers so you will get more insulation and temperature control while you are wearing it. The material also has 100 percent sealed seams, which are an advantage to the entire item. Plus, you get a lot of zippers to regulate temperature and adjust your fishing bib according to your needs and preferences.
SPECIAL FEATURES
Among the unique features of this outfit, you will be thrilled to notice the front zipper that is impressive and very convenient to get this outfit on. But there are plenty of other zippers such as those on the thighs or pockets.
Speaking of pockets, you will love the fact that this item has a lot of storage places for your fishing tools and accessories. It also has the classic D ring for your keys and gloves like many other high-quality ice fishing bibs on the market.
You can choose from a wide variety of colors with interesting patterns such as the shoreline shade, Mossy Oak Bottomland shade, blackout, Realtree Timber, Charcoal Gray, and many others.
SIZE
The size of this item will not disappoint you either. You can choose any size from small all the way up to 4X large, and all of them will meet your expectations.
5.STORMR MEN'S STRYKR NEOPRENE BIB
STORMR is another professional ice fishing bib that deserves your attention, and you will not regret investing in it. It has all it needs to keep you warm and dry as you are ice fishing and you will not have to endure any bulk while you are wearing it.
Thanks to the way this bib is structured, you will enjoy a lot more flexibility while you are wearing it and you will discover a new level of comfort.
MATERIAL
The Neoprene Core Technology is applied to this ice fishing bib so you will enjoy a waterproof and breathable bib every time you are on the ice. The materials used to make this bib are elasticated; that way, you can enjoy a lot of flexibility and comfort.
You will also stay warm and dry regardless of the weather conditions that you might be facing. No moisture is allowed to get inside this bib as long as you are wearing the right size. Also, the materials used to make this bib will help you float in case you fall in the water, which can be a lifesaver as well!
SPECIAL FEATURES
On the realm of unique features, the STORMR fishing bib has a lot to offer as well. It comes with large pockets that can be safely closed with high-quality zippers. As we mentioned, it is waterproof and breathable, but it is also effortless to take off, which is very important if you have an emergency.
SIZE
The sizes that this product comes in are very generous as well. You can get this bib from small, up to a massive X large long. The manufacturer really thought of all the details when they put together this ice fishing bib.
6.ESKIMO LOCKOUT ICE FISHING BIB
Eskimo can also be a great option when you are looking for a quality ice fishing bib. It is made with a hydrophore system, and it can be used successfully by both beginners and experts for ice fishing. And the price is in the middle of the range as well, which makes it easy to consider investing in.
MATERIAL
All the materials used to put together this bib are high-quality and very temperature resistant. This means that you will love to wear it and you can count on it for many years to come. The outer layer is made of 600D Endura, and the bib has 100 percent PU seam taped.
The materials used are waterproof, and you will also find the 210 T interior lining very comfortable and efficient as well.
SPECIAL FEATURES
When it comes to the special features, this bib has a hydrapore system that makes it 5000/5000 waterproof and breathable. It will also help you float in case of need, thanks to the Sureflote Flotation-Assist Liner. And you will also find all the pockets you need to store your tools and accessories!
SIZE
This item can be purchased in two sizes, which are X large and XX large. But there are times of the year when the manufacturer releases more sizes to accommodate more users.
Things to look for when buying Ice Fishing Bibs
When you are investing in ice fishing clothing, you can't just go for the way they look. There are many other aspects that you need to consider. And, here are the four most important features an ice fishing bib should have.
Floating Lures
You might think that these features are not a must, but in extreme situations, they could save your life. Read the product's description and consider investing in an ice fishing bib that can actually keep you on the surface in case of an accident. The fact that such a feature can save your life should be reason enough to convince you not to negotiate it.
Waterproof and Windproof Features
Ice fishing is traditionally performed in extremely cold weather conditions. This means that you might get stuck in the rain or even snow. It is crucial for the bib that you are using to protect you from moisture and wind. These two weather conditions can be quite damaging, so you shouldn't neglect these features.
Padding
The padding that some ice fishing bibs have in the knees area, for instance, can make all the difference not only for your comfort but also for your joints. Such a feature will allow you to be more flexible and relaxed while you are wearing the bib. By choosing a bib with this padding, you will protect your knees a lot and enjoy your fishing hobby a lot more!
Seat padding is also very popular. Sitting down on the cold, hard ice, isn't comfortable for any period. Consider investing in seat padding, and you'll be glad you did.
Insulation
Wearing an ice fishing bib is not only uncomfortable, but it can also be dangerous if you don't think about all your options. You might expose your body to temperatures that are way too cold and damage your health.
If you want to stay away from hypothermia and other potential health conditions, you should wear an insulated outfit. Insulation keeps the temperature that your body is comfortable with. This can make all the difference during those hours that you spend on the ice!
Conclusion - Which is the Best Ice Fishing Bib?
As you can see, choosing the best ice fishing bib is not such an overwhelming task as long as you have all the information to help you decide wisely. By selecting either one of the products listed here, you can be sure that you end up with a high-quality product and you will not be disappointed.
I would recommend all these products but what works for you is entirely up to your needs and preferences so always look at such items subjectively. What is good for others might not be right for you, but you can get a good idea from reading the testimonials of other users. For my preference though I would suggest the STORMR MEN'S STRYKR NEOPRENE BIB as it ticks all the boxes.
Once you get the right equipment for ice fishing, you are free to experience this enjoyable hobby for as many hours as you want. But always keep in mind that your clothes are the most critical part because they can keep you comfortable and warm, which is essential for your health.
Last update on 2020-05-29 / Affiliate links / Images from Amazon Product Advertising API
---
We like to share product recommendations with you and hope you like them! Just to make you aware FishingLab may collect a small share of sales or other compensation from the links on this page.
---