Best Surf Fishing Rods Ranked and Reviewed + Buyers Guide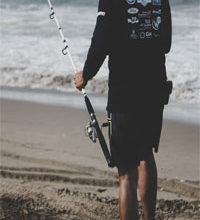 Are you looking for the best surf fishing rods available on the market? The surf casting rods that we review are focused on their strength, flexibility and, durability. They are not only suitable for Surf fishing but also Trouts, and Saltwater fishing and few more.
This list of surf fishing rods is made by keeping in mind, the varieties of fishing location, techniques, and types of fishes that people like to prefer. So, we dug into various surf fishing rods and after analyzing it closely, we were able to reach our list of the best. This list is specifically for all those who like to fish in the bank of shallow water, and mid oceans. This list will also cover the casting rod that can normally be used not just for surf casting but occasional bass fishing too.
Best Surf Fishing Rods - Comparison Table
Product Name
Rod Q Model QRX Baitcasting Rod
Fiblink Surf Spinning Fishing Rod
Ugly Stik GX2 Casting Rod
Rippin Lips Super Cat Casting Rod with Glow Tip
Entsport Camo Casting Rod Legend
Entsport Sirius 2-Piece 7-Feet Casting Rod
Preview






Product Name
Rod Q Model QRX Baitcasting Rod
Preview

Product Name
Fiblink Surf Spinning Fishing Rod
Preview

Product Name
Ugly Stik GX2 Casting Rod
Preview

Product Name
Rippin Lips Super Cat Casting Rod with Glow Tip
Preview

Product Name
Entsport Camo Casting Rod Legend
Preview

Product Name
Entsport Sirius 2-Piece 7-Feet Casting Rod
Preview

Best Surf Fishing Rods - Reviews
1.Rod Q Model QRX Baitcasting Rod
Summary
The Rod Q Model is known among anglers, especially for its strength and durability. This model has come up with an increased overall performance, increasingly focused on sensitivity despite being a little heavy.
This casting rod is highly versatile and can easily be handled by anglers with all skill set.
The enhanced and sensitive tip design will update you with every single strike happening underwater. Its highly sensitive performance will make you feel every bit of strike from the underwater. The extra rod power will keep the reel in its position.
If you are planning long hours of fishing every once in a while, this surf fishing rod may be the one to be considered.
Features
Guide with a concept of 12 Fuji Alconite Black SS will increase the durability of the casting rod.
It delivers power action with a medium fast response that will help you to place the hook right on time.
This highly versatile fishing rod will operate in any stream of the flow. Be it any saltwater, lake, and river.
Simplicity and quality of the material used in this casting rod are very impressive.
This limited edition fast tip rod allows you to carry your prey out instantly after the strike and you will be able to see the action yourself.
The perfect guide alignment will not only allow you to do surf casting but bass casting and several other medium sized fishes can be captured with this casting rod.
Specifications
Length - 7'3"
Rod Power - Heavy
Rod Action - Fast
Weight - 7 ounce
2.Fiblink Surf Spinning Fishing Rod
Summary
The dynamic construction of Fiblink Surf Rod is a newly designed solid fiber construction to provide extra toughness to the rod. It has lot of interesting features including its increased sensitiveness that will allow you to detect even the slightest strikes.
It also has a very high quality guide that offers long casts. The high quality guide will let you feel vibration traveling all the way from the tip to of the rod to your hand. This is a specially designed equipment for distant travel fishing. The quality of material used in this rod also makes it extremely durable.
Features
Extra sensitiveness and performance with the help of solid fiber construction which also makes it durable.
The ceramic guide is smooth and almost frictionless because the built quality is mixed with stainless steel.
Well assembled and no slip grip uses rubber that will help you keep fishing for longer hours.
Strong and bending power allows it to handle some serious ocean fishes with ease.
Well equipped with the tensile material, you can bend it down in the trunk of your car and head for a distant travel fishing.
The tip cap is well protected by the wheel seat that is tapered with stainless steel transitions to avoid any breakage at the top of the rod.
Specifications
Length - 9'
Weight - 9.5 oz
Rod Composition - Carbon
Guide - 4 + 1
Road Power - Medium Heavy
3.Ugly Stik GX2 Casting Rod
Summary
A very versatile Ugly Stik GX2 is lightweight equipment that is perfectly balanced to give you the experience that you will expect at this extremely reasonable price. Its blank construction is nearly indestructible which is professionally designed from fiberglass and graphite.
The GX2 casting rod can withstand harsh situations easily whether it is with bass fishing or surf fishing.
This is professionally tested rod for its maximum strength and sensitiveness. It gives you sufficient time set your hooks and increases your success rate like never before.
Overall performance of this rod is very stable, and there are other reasons for many anglers prefer this rod as a viable option for fishing.
Features
A very well balanced, this casting rod will offer durable and lightweight equipment.
Comfortable and smooth handle due to EVA controlled grips that allow you for long hours of continuous fishing.
As good as a performer as it is stylish, this casting rod has a sleek form and classic diamond touch that give it a very catchy look.
Very sensitive to strike and strong enough to respond to a strike by hooking a fish out of the water.
Reel seat is extremely good and powerful.
Specifications
Action - Medium
Length - 6'6"
Piece - 2
Weight - ¾ oz
Power - Heavy
4.Rippin Lip Super Cat Casting Rod with Glow Tip
Summary
Guide made up of hard stainless steel, The Rippin Lips casting rod will overcome daily challenges that anglers experience while fishing.
This rod is available in both one piece and two piece, an appropriate choice will depend on your fishing techniques and the area you like to go fishing. Besides graphite, this rod is blended with E - glass, and S - glass that gives it superior bending along with the strength and durability.
The fast tips will transfer the faint strikes back to you quickly which gives you the time to place your hook immediately.
Features
Very durable material built of Cat- Glass composite that can withstand line weight from small to heavy.
Grip is designed in sections to perform strong handling of the equipment rather than creating single grip which not always work.
The components are high quality and sensitive that can transfer vibrations from underwater to your hand instantly.
Despite being light in weight, this rod is extremely strong to perform some serious action.
Epoxy coating is done to offer the rod with toughness and protection.
Specifications
Length - 7'6"
Action - Medium
Power - Heavy
Piece - 1
Weight - 11 oz
5.Entsport E-series Camo Casting Rod Legend
Summary
Professionally designed equipped with two tips, The Entsport Camo will allow you to use medium and medium heavy tips in a single rod. This innovative solution in the rod will enhance your choices like you are fishing with two different rods.
Apart from its ergonomic design, this rod is lightweight and strong as you can expect a fishing rod to be.
This rod has not just reduced the weight further and will also give you a great balance while casting. Its slick design and unbeatable sensitiveness may certainly be something you have been looking for.
Features
Uniquely designed rod equipped with two tips, medium and medium heavy that you can adjust based on the type of fishing you will choose to perform.
Handles are a high density EVA material which gives extra sensitivity and toughness to the casting rod.
Reel seat is designed to resist any kind of corrosion to the metal components that offers a long life to the rods.
Lightweight yet powerful design that can work with both small and medium sized fish.
Superior sensitivity of the rod will allow you to feel vibration instantly during the slightest strike on the tip.
Weight of the rod is reduced furthermore with the help of EVA equipped technology.
Specifications
Length - 7'
Guide - 6+1
Power - Medium and Medium Heavy
Material - Carbon
6.Entsport Sirius 2-Piece 7-Feet Casting Rod
Summary
This professionally tested Sirius Graphite rod is a highly tensile rod that can resist and bend without even getting the slightest discomfort to an angler. This very advanced casting rod includes multi - purpose hook holder which will give an effective hook during the strike.
This equipment also consists of a high quality EVA component that provides extra strength and durability to the equipment.
Its complete sensitiveness can certainly escalate the success ratio of catching the jaw of your prey in your command. Reel seat is also designed in such a manner that withhold itself during long hours in muddy or rusty water.
Features
Maintaining the strength and vibrations, this equipment is composed of solid fiber carbon construction that will help you sense the strike and struck it out immediately.
Ergonomic shape with lightweight features helps the rod to provide remarkable action and toughness.
Powerful and flexible operations can be performed because of added sensitivity of the graphite component attached to the rod.
Graphite content in the rod will also prevent the metal component from corrosion.
As an outcome of the reduced weight, anglers can easily spend their entire day fishing without feeling any stress to the hands.
Virtually frictionless line flow can be found to provide superior casting performance with a vibrational feature.
Specifications
Length - 7'
Weight - 20 lbs maximum
Material Composition - Carbon
Guide - 6+1
How To Pick The Best Surf Fishing Rod
Here are some of the main features to consider when searching for the best surf casting rod:
Length
Length of the rod is equally important as the strength of the guide. Length should always be preferred based on the strength the surf fishing rod offers. The durability of a casting rod also depends upon the maximum line weight, and the length you choose. So, if you are going for a long casting rod, always make sure to check the guide strength of your rod.
Length of the rod depends upon several factors that we are going to discuss in the next subsections.
Guide Strength
Guide Strength is the power that the rod blank is ready to transfer to the line weight and its bending potential while targeting a fish. Guide Strength also depends on the techniques you implement and the size of the fish that you plan to target.
Rod Power
Surf casting rods are divided into three categories based on their weight and power:
Now, a heavy rod power will need more line weight to bend and, a light rod power will need a lighter line weight to bend. The rod should be able to bend enough to achieve a successful fishing experience. The bending of the rod depends upon the material composition of the rod.
Rod Action
This is the feature that will allow you to notice the bend of your rod. Rod Action is divided into three categories:
So, what does that mean? This means, if you want fast or quick action, the rod is going to bend in the first 20% - 30% section of your rod. Similarly, if you want a slow or gradual action, the rod is going to bend more than half of its total length. So, if you want to feel every action going into the water, go with fast action rod, or else you can go with slow one if you're experienced.
Rod Composition
This is one of the important factors to consider that matters not only during fishing but off-fishing too. Why? Because almost all casting rods consists of metal in some of its components, and since the metal used in the rods is an alloy of different components, so the rod may not have very good resistance to corrosion. So, it is advisable to choose a rod with high graphite content that can increase rod's resistance to corrosion.
Warranty
Every surf casting rod comes with a limited warranty, so it is advisable to confirm the warranty of the rod before you check out.
Piece(s)
Surf casting rods are normally built by connecting multiple small rods, to achieve
maximum strength and flexibility.
Grip
You can not have smooth fishing if the rod keeps on slipping from your hands. Grip provided in the surf casting rod is a notable feature that you should not ignore.
What Is The Best Surf Fishing Rod?
We've just some of the surf fishing rods on the market. We're now ready to announce our pick for the best of the best: Rippin Lips with Glow Tip Super Casting Rod
This is one of the very few casting rods that are willing to provide everything an angler looks for at such an affordable price. The cat glass composites used in the rod uniquely describes the properties of the casting rod. It not only adds to its durability but overall performance. It gives angler, enough time to set the hooks once he will sense the strike, with the help of the extra sensitive vibrational quality of the rod.
This surf fishing rod barely compromises on the key features that will be necessary for any angler irrespective of how trained he is. Rippin Lips has a powerful tip, and with a sensitive rod, that will help the angler to sense the strike and the prey get stuck immediately. So, as a whole, this surf fishing rod is also considerable if you want to hunt some extra fishes which might escape with other ordinary casting rods that are available on the market. As the name itself suggest, this fishing rod will literally rip the prey's lips and eventually stop its motion.
Last update on 2020-05-29 / Affiliate links / Images from Amazon Product Advertising API
---
We like to share product recommendations with you and hope you like them! Just to make you aware FishingLab may collect a small share of sales or other compensation from the links on this page.
---