Best Fish Finder Under $200 for 2020 – Reviewed and Compared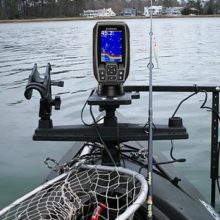 Are you in the market for a new fish finder under 200 dollars?
These devices make it easier to find fish swimming in the water. These units use the same tech as Sound Navigation and Ranging (SONAR) systems. We'll review some of the top units on the market and share their features, benefits, and drawbacks. We'll also provide info about the benefits and key features when shopping for the best fish finder under $200.
Product Name
Editor's Choice
Striker 4 GPS Fishfinder by Garmin
HawkEye Fishtrax 1C Fish Finder
VT-FF001 Portable Fish Finder by Venterior
Deeper PRO Smart Portable Sonar - Wireless Wi-Fi Fish Finder
Portable Fish Finder by Lucky
Preview





Max Depth
1,600 ft freshwater*, 750 ft saltwater*
Editor's Choice
Product Name
Striker 4 GPS Fishfinder by Garmin
Preview

Max Depth
1,600 ft freshwater*, 750 ft saltwater*
Product Name
HawkEye Fishtrax 1C Fish Finder
Preview

Product Name
VT-FF001 Portable Fish Finder by Venterior
Preview

Product Name
Deeper PRO Smart Portable Sonar - Wireless Wi-Fi Fish Finder
Preview

Product Name
Portable Fish Finder by Lucky
Preview

Best Fish Finder Under 200 Reviews
1. Striker 4 GPS Fishfinder by Garmin
Summary
Interface. The interface is basic and includes dedicated buttons. The device is easy to install and use, which boosts the functionality. You can see the sonar data in flasher format.
Sonar. CHRIP transmits a constant sweep of frequencies that delivers a wide range of info. Compressed High-Intensity Radiated Pulse (CHIRP) sonar creates cleaner fish arches and superior target separation.
CHIRP sends a sweep of high and low frequencies then interprets each frequency as it returns. This provides more accurate input vs. single-frequency sonar.
Features/Extras. The waypoint map makes it very easy to view/mark/navigate to different locations like stumps, brush piles, and docks. Striker 4 has a maximum depth of 750 ft. saltwater and 1,600 ft. freshwater.
The display shows your boat's speed. This helps to ensure you're trolling at the proper speed for the fish species you're fishing and the lure you're using. You can make tweaks if you're traveling at an ideal speed.
You can upgrade to high-performance CHIRP w/ GT8 or GT15 transducer, which are sold separately.
Applications. This system can be used for applications like canoeing, kayaking, and ice fishing. You can use the portable kit to protect/carry the unit. It's also helpful to so you can get back to your boat ramp.
2. HawkEye Fishtrax 1C Fish Finder
The more experienced anglers may prefer this product due to the demand for high definition picture for a better fishing experience as the Fishtrax 1C incorporates full color.
This is performed by the use of VirtuView TFTN Display which has the following three modes: Fish finder, Data and Ice-Mode digital flasher which you won't find on many low cost fish finders under 200 dollars.
Summary
Looking at the three different modes the first one is Fish Finder mode which can give feedback on the presence of fish in the area, the depth of the water and the composition of the bottom all on the one HD color display.
Data mode gives an enlargement factor to the readings such as depth, battery voltage and temperature so you can read it from further away which is handy if on a boat where the finder is not right beside you.
Ice-Mode Digital Flasher produces Sonar Echos to give real time feedback like a traditional flasher which is great for ice fishing.
The unit also enables the user to select dual-beam FishTrax Intelligent Sonar which can be used for fine tuning the program for your particular fishing style or scenario based of 100 level sensitivity adjustment, multi-level depth ranges and auto zoom bottom tracking. All these features coupled together could make for a great fishing experience due to the high level of capabilities of the finder.
If that isn't enough there is also an audible fish alert alarm which makes it one more step easier to track those fish.

This device is bundled with:
VirtuView HD Color Display
User Selectable Dual-Frequency 200/83 kHz FishTrax Intelligent Sonar (14/26° Beam Angle).
Ice-Mode Digital Flasher Portrayal
FishArc and FishID Fish Indicators with Fish Depth Targeting
HD Bottom Landscape Painting
Split Frequency & Bottom Zoom Mode
Auto and Manual Depth Range and Sensitivity Settings
Portable or Boat Mountable
Audible Fish &Depth Alarms.
3. VT-FF001 Portable Fish Finder by Venterior
he VT-FF001 detects/displays fish location, water depth,sand/rocks on seabed, and short/tall weeds. The backlight mode lets the user operate the product during nighttime.
Summary
Interface. Several feature settings include:
Battery save mode
Unit of measure
5 user sensitivity
Fish alarm
Backlight mode
Sonar. The unit can detect water depth from 3 ft. to 328 ft.
Water depth is displayed in either feet/meters.
Features/Extras. The unit includes a round transducer w/ removal transducer float and 25 ft. cable.
This product is covered via a 2-year warranty. The company can be contacted through customer support for any questions or problems. Responses are provided daily within 24 hours.
Applications. The VT-FF001 can be used for various fishing environments like river, lake, and sea. It can also be used for boat, off-shore, lake, sea, and ice fishing. This offers several options and versatility.
4. Wireless Wi-Fi Fish Finder by Deeper
This Wi-Fi Fish Finder is castable and can be used by anglers of all skill levels. It allows you to find hot spots quicker. You can see the location, depth, and size of fish. You can also view vegetation, structure, bottom contour/hardness, and water depth/temperature. In fact, it handles temperatures as low as -4F degrees.
Summar​​​​​y
Interface. You can review/analyze/save maps on any device through the manufacturer's bathymetric management platform.

The fishing mode works w/ traditional flasher display & 2D vertical zoom.

Sonar. Deeper Pro+ smart sonar w/ GPS is included with this finder. It includes target separation that's very sensitive/accurate, so you'll know the exact time to cast your line.

You can cast the tool up to 330 ft. and the unit scans up to 260 ft. It uses a dual-beam sonar frequency with 55-degree wide beam and 15-degree narrow beam.

Features/Extras. Deeper offers 24/7 customer support so you can get answers to your questions/problems any time.

You get free access to Lakebook so you can save/analyze maps and plan next trip from home.

This Wi-Fi fishfinder can be operated in both freshwater and saltwater. It also floats in the water and is small/lightweight/wireless so it won't get in your way while fishing.

Boat Mode lets you make 15 scans/second. This provides smooth/productive trolling.

This device is bundled with:
Charging cable
Instruction manual
Carry pouch
2 attachment bolts
Applications. The wireless fish finder is designed for various applications like ice fishing and kayaking. You can make bathymetric maps while kayaking or hole hopping platforms while ice fishing.

The Deeper fish finder can be used for shore/dock/bank fishing. Just cast out/reel in so you can see sonar readings displayed in real time on your phone.

You can also cast easily from boats to access tough-to-reach areas. This allows you to cast from your kayak and avoid paddling since it might scare the fish.

The finder can even be dropped into ice holes. It provides 15-degree narrow beam scanning and operates in ice holes 10-in. wide and ice as thick as 4 ft.

5. Portable Fish Finder by Lucky
This is a wired fish finder with updated 2.4-inch LCD screen for a clearer display. It can detect/display water depth, underwater contour, fish size, and water temps.
The device is rechargeable and is bundled with USB cable. The device can run for around 5 hours on a single charge.
Summary
Interface. The display is colorful and clear. This provides you with underwater details. That includes info like water temperature, fish size/depth, and underwater contour.
Sonar. The sonar transducer delivers 26 ft. wired operating distance. The transducer has 45-degree detect angle and 28-ft. depth detection.
Features/Extras. The unit has two modes: Transducer and Simulation. The transducer mode is for fishing and simulation mode includes all functions.
The bracket gives you the option to attach the transducer to the boat.
Various feature settings are included like understeer contour display. There are also setups for:
Screen brightness
Sensitivity
Zoom
Language
Fish icon
Depth alarm
Fish alarm
Depth Range
Applications. This cheap depth finder includes different applications like river, ice, sea, shore fish finder, and kayak fishing. This provides more versatility.
The Lucky fishfinder can be used for different types of fishing. They include boat, shore, and sea fishing. This provides more flexibility since you can use the same device for various types of fishing.
The Lucky device is bundled with:
Sonar Sensor transducer
Quick reference guide
1 bracket
1 micro auto charger
1 neck strap
USB AC Adapter & USB cable
This provides you with everything you need to start using the device.
Key Features of Fish Finders
When searching for the best fish finder under 200 here are some of the most critical factors to keep in mind:
Transducer Material
Start with the transducer material. If you're a casual fisherman, then plastic is good enough and works with nearly all boats.

Make sure to check the material of your boat's hull. You'll need plastic/fiberglass transducers for metal hulls, steel/aluminum hulls need stainless steel housings, and fiberglass/wood hulls need bronze housings.

Reading Depths/Speeds
More figures are important in terms of the device's functionality. Make sure to find out the maximum depth readings of the unit as well as maximum speed you can capture readings.

You should also look for depth alarm systems for deep/shallow water. It's also a plus when depth readings are in meters and feet, so you don't have to do calculations to convert to British or metric system.

Transducer Frequencies
The main options when picking fish finders is single, dual, and multiple frequencies. This includes the options of 50/83/192/200 kHz frequencies and related cone angles.

How can you pick the right frequency? Make sure to consider the type of fishing you'll be doing like deep/shallow water. You should also consider the finder's power. More wattage is better for deeper water, faster waves, and reliable readings.

Data Accuracy
The quality of the data provided by fish finders is just as important as the quantity. Consider how accurate the data is provided by the unit. For example, features like adaptive software programming can help to minimize false readings.
Sonar Data
Check which kinds of sonar data is provided by a particular fish finder unit. Some options include fish location, bottom contour, and thermoclines. It's also important for the unit to sort out this data effectively and provide you with clear data.
Screen Resolution
Make sure to check the number of pixels of a particular fish-finder's display. The more, the better in terms of crisp and clear images.

Is there a magic number? Look for resolutions at least 240p x 160p. This isn't an outstanding resolution but can give you a decent view of fish and other objects in your fishing area.

Make sure to consider not only the screen's resolution but also the screen size. These two factors are critical in determining how crisp and clear the images are.

The key is to pick a screen resolution you need and can afford. You should set a budget before picking a fish finder, and the resolution will affect the total price.

An X-factor is how much experience you have using these types of devices or even fishing itself. If you're just getting started then a small b&w display will be good enough.

User Interface
Make sure to look for a UI that's easy to read and use. It's not really worth picking a device with lots of bells & whistles if the interface is difficult to read/operate.

One of the key factors is the display. Make sure it provides crisp and clear data/images. This will make it easier to operate the unit and improve the functionality.

Water Resistance
This issue is especially important if you're mounting the finder to a small/open vessel. Make sure to look for the IPX/JIS ratings. The figures are basically the same but will determine how water-resistant a fish finder is.

The range is 4 to 7. A 4 rating means the unit can be splashed with water while a 8 rating means the unit can be submerged for long periods of time.

Conventional wisdom says you'll always need an 8 IPX/JIS rating, but it's not quite true. Make sure to consider the type of fishing you'll be doing. You won't really need high water resistance if you'll strictly be doing shore fishing. It's a different story if you'll be doing deep-sea fishing.

Sonar
Fish finders use the same basic tech as sonar, but not all sonar is the same. For example, CHIRP sonar continuously emits a myriad of frequencies to deliver a wide range of data.

These technologies will jack up the price of the device but will also offer you better performance. Sonar tech can be quite technical so make sure to read up about the different types offered by fish finder makers.

Price
If you're looking for a fish finder device in the under-$200 price range how much should you be willing to spend? If you want high quality, you should consider the $100 to $200 price range. This will help to provide better technology, functionality, features, quality, and service.

The key is to consider the value you're getting for a particular price. Paying a rock-bottom price isn't really worth it if the device breaks the first time you use it. Pricier units usually include perks like better materials, technology, and warranties/guarantees.

Warranty/Guarantee
Warranties tend to be limited although sometimes they're comprehensive and cover "everything." If it's a limited warranty make sure to research what's covered. This is sometimes in the Amazon product description although other times it's in the fine print of the terms & conditions.

You should also check how long the warranty is valid. Sometimes it's for the lifetime of the unit, but usually, it's for a limited time like 1-2 years or even 6 months. The problem with short-term warranties is you're more likely to get stuck with a broken device if it breaks after the warranty expires.

There's also a satisfaction guarantee that's usually valid for 30 days but sometimes longer. This typically allows you to get a refund or replacement if you're not 100% happy with the device within X days. A satisfaction guarantee allows you to make a risk-free purchase and "test" the unit.

B&W/Color Displays
While fish-finders with a color display with have a higher price tag, it's arguably worth shelling out the extra money vs. a black and white screen. The can show millions of colors and are easier to read/understand and especially in direct sunlight. If it's a cloudy day, you'll also have more difficulty reading a b&w screen.

Should you ever consider a b&w screen? If you're investing in your first fish finder and are on a shoestring budget, it's a practical option. You could upgrade later to a color display.

Brand

You should definitely go with established brands like Garmin. Unfortunately off/generic brands typically aren't worth the super-low prices they offer for fish finders. Yes, you can find units in the under-$200 price range but remember "You get what you pay for."


FAQ's
What is the best low cost fish finder?
What is the best fish finder?
How do I choose a fish finder?
Can fish finders get wet?
Conclusion
We've carefully reviewed and evaluated these top fish finders on the market. After careful consideration we're ready to announce our pick for the best of the best: Striker 4 GPS Fishfinder by Garmin.
It starts with the manufacturer. Garmin is a US tech company that was founded over three decades ago in 1989. This gives it an edge over generic and off brands that have lower-quality products and service.
Let's get to the nitty-gritty of the fish-finder device. The Striker 4 uses game-changing CHIRP sonar that continuously emits several frequencies for a wide range of data. This provides crisper fish arches to catch more fish.
On the other hand, this Garmin is also basic yet functional with a keyed interface. It's easy to install and use, so you don't have to be a technology guru to operate it.
Another plus of the Garmin Striker 4 is it provides high flexibility and can be used for applications like ice fishing and kayaking/canoeing. The unit is available in display sizes of 3.5, 5, and 7-inch. The waypoint map lets your view and mark locations while the unit has a maximum freshwater depth of 1,600 feet.
There's no question the Garmin Striker 4 is the top fish finder under $200. It provides the right blend of functionality, flexibility, and simplicity. The Striker 4 is a great find!
I hope you enjoyed our best fish finder under 200 reviews article, please comment and share.
Last update on 2020-04-07 / Affiliate links / Images from Amazon Product Advertising API
Summary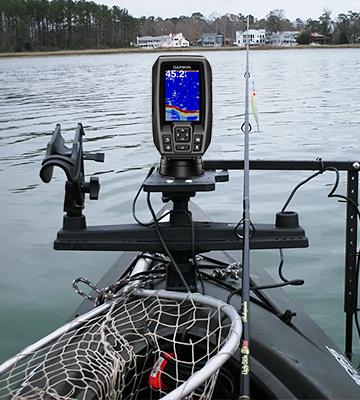 Article Name
Best Fish Finder Under $200
Description
Review article of the best fish finders for under 200 dollars available for 2019. In depth description of each of the products showing pros and cons of each. There is also a how to guide on buying the right product needed for each type of angler.
Author
Publisher Name
Publisher Logo

---
We like to share product recommendations with you and hope you like them! Just to make you aware FishingLab may collect a small share of sales or other compensation from the links on this page.
---