2
The 7 Best Fish Finder GPS Combo Reviews | Top Selections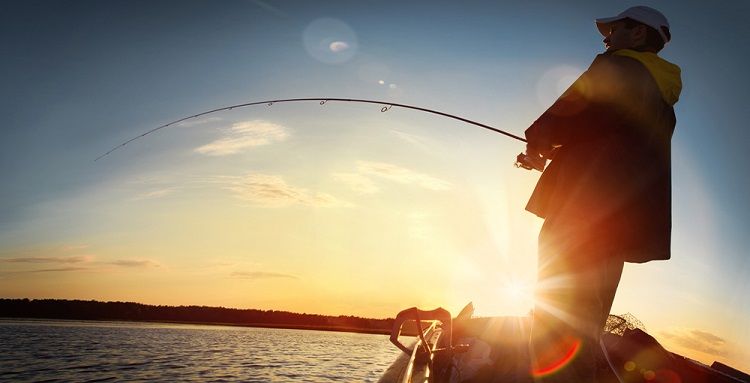 If you're a fisherman, then you know how great it can be to head out on your boat and find a spot with lots of fish to make your day's haul worthwhile. While some people don't necessarily care how much they catch, in your mind a good day is when you can come home with some whoppers in your net.
Back in the old days, trying to find the best fishing spots relied on ingenuity and instinct. These days, however, you can utilize high technology to find your next catch, meaning that the whole process has gotten down to a science.
Fish finders are highly popular among casual and serious fishermen because they make the process of locating new fishing grounds so much easier. Standard models only show you what's going on around you, but if you want to take things up a notch, you should get a best fish finder GPS combo as well. These devices allow you to navigate as well as track your prey.
So, if you want to upgrade your fishing experience, let's take a look at what these fish finders with GPS have to offer.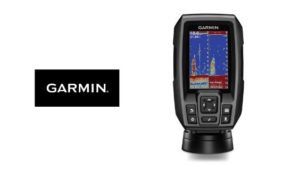 Garmin 010-01550-00 Striker 4 with Transducer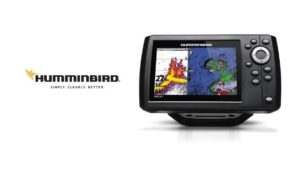 Humminbird 410210-1 HELIX 5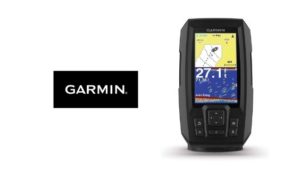 Garmin Striker Plus 4 with Dual-Beam transducer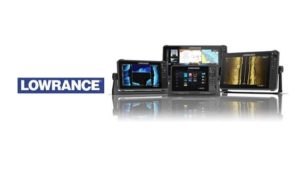 Lowrance HDS-Live 7 Fish Finder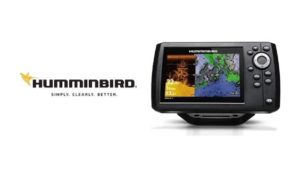 Humminbird 410220-1 HELIX 5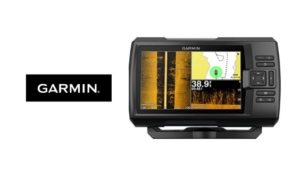 Garmin Striker 7SV with Transducer
Best Fish Finder GPS Combo Reviews
1. Garmin 010-01550-00 Striker 4 with Transducer
We start off our list with the Garmin Striker 4. This dependable and easy to use GPS fish finder reports highly useful information with all the tools that it provides. This fish finder has everything that a person may need for discovering fish and finding or marking positions via the GPS.
For starters, the Striker 4 is designed with its users in mind. The menus and its functionalities are quite intuitive, making it easy for anglers to unlock its true potential with ease. While the initial price point may make it seem like the Striker 4 is a basic unit, that could not be farther from the truth. Make no mistake, this fish finder gets the job done.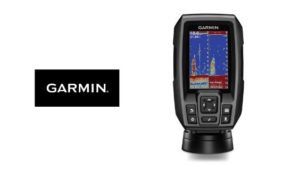 It also utilizes a CHIRP transducer that is used to send out frequencies over various ranges. This helps to see the fish in great detail. It also has a built-in GPS which is very sensitive. Using this GPS, it makes it simple to locate your location with good accuracy. It also allows anglers to mark certain important spots where the fish gather, making it easy to return to those points.
The Striker 4 is a great choice for anglers who are on a budget, but want a versatile fish finder that will get the job done, as well as an accurate GPS system.
2. Humminbird 410210-1 HELIX 5
When it comes to fish finders, generally speaking, Humminbird is one of the best manufacturers in the industry. The HELIX 5 fish finder that they offer is part of the cream of the crop. One of the things that stand out in this specific fish finder is its GPS system.
If you are an angler who puts a premium on mapping locations or contour mapping, then this is the fish finder to use. Anglers can take advantage of what the HELIX 5 has to offer. It utilizes both side and down imaging, giving a wide and detailed view of the waters that you are in. It not only makes it easy to see the fish, but also structures underwater.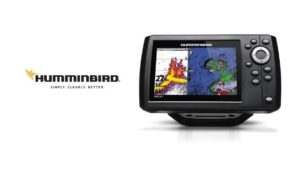 The strong and versatile GPS system grants a lot of detail for anglers. However, for those anglers that want to narrow it down to what is important, the SwitchFire mode allows people to switch what they want to focus on.
3. Garmin ECHOMAP UHD 74cv
Another great choice for a fish finder GPS combo is Garmin's ECHOMAP UHD 74cv. When it comes to technology, the ECHOMAP UHD 74cv is pretty up there, offering some of the best and most effective GPS technology. It has anything and everything that an angler would need of GPS fish finders. Need to find and mark great spots with a lot of fish? Check. Want your location to be updated constantly and accurately? You got it.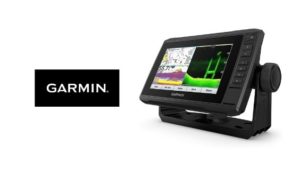 This fish finder uses clear sonar scanning to reveal what is underwater. The high frequency it employs grants great detail that anglers will find useful. Apart from this, it also utilizes CHIRP sonar for additional information, including the useful separation of targets. It even has a quick draw contouring software that allows for the creation of an HD map for the fish underwater.
Furthermore, your boat's location is updated five times in every single second. It also allows you to use a Captain app and customize your experience as well by plotting charts and using maps.
4. Garmin Striker Plus 4 with Dual-Beam transducer
One great functional fish finder GPS combo is Garmin's Striker Plus 4. It is a simple and very easy to use fish finder, with great built-in features and a good GPS system to boot. It is also quite affordable, so it is a good choice for anglers who are just starting out with their equipment or beginner anglers.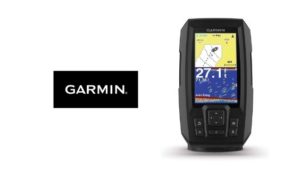 The transducer that it comes with utilizes CHIRP sonar that yields high quality images. The high quality is a definite plus, allowing anglers to pick out important details. All the information is seen through a 4.3 inch display.
This fish finder also has a quickdraw contour function for mapping out areas. Map creation is very fast and simple. Anglers will also be very pleased to know that they can store maps for future reference. It is a great GPS tool and even one that is good for creating routes on the water.
5. Lowrance HDS-Live 7 Fish Finder
One of the best product lines in Lowrance's inventory is the HDS-Live series. It is a powerful fish finder that contains functions that any angler can utilize greatly. However, in the hands of an experienced angler, it truly shines.
For starters, the transducer it comes with must be remarked. The Active 3-in-1 imaging transducer is one of the best things about this fish finder. It employs 2D CHIRP sonar, side imaging, and down imaging. It is a very strong package in terms of sonar, ensuring that you find fish where you go.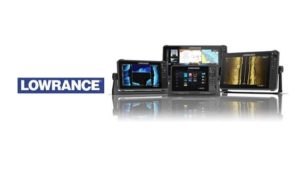 In terms of GPS and map creation, the HDS-Live 7 is no slouch as well. It can chart contours at depth, see the hardness of underwater floors, and even vegetation. All of this is done while you move through the waters. All of this is facilitated by the C-Map Genesis Live technology that uses the transducer and GPS' capabilities together. At the end of the day, you can upload your maps for the community to use as well.
6. Humminbird 410220-1 HELIX 5
Another entry comes our way from industry titans Humminbird. The 410220-1 HELIX 5 contains dynamic sonar types and features. It has down imaging allowing anglers to see right under the boat. The dual beams and sonar also allow anglers to focus the beams or make the search wider. Finally, the CHIRP sonar delivers good details that convey valuable information to anglers.
All the detail that the sonar provides can be filtered via the sonar display modes. The Max and Clear Modes are available to use, showing or hiding information for the focus of the anglers.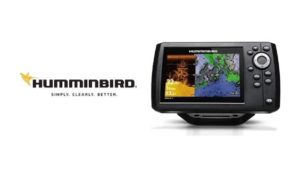 One of the built-in features is the basemap feature. It provides anglers a clear and detailed view of the terrain. It also allows users to mark important items and features that they see on the water. These include things like buoys, marinas, and many other things.
Map creation in real time is also available. A total of eight hours recording time is available for map recording.
7. Garmin Striker 7SV with Transducer
The 7SV is a newer model in Garmin's line of find finders, but how does it hold up?
It has a lot of similarities with the 4Cv, for one, the clarity on the screen is amazingly clear, and the CHIRP sonar allows you to see fish more personally than ever before. You can easily see the fish you want to target, and the larger screen definitely helps matters.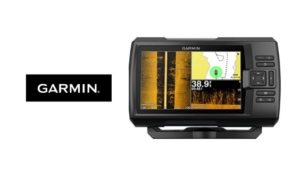 Also, like the 4Cv, you can save up to thousands of waypoints and advanced mapping software that allow you to to create and save maps with one-foot contours for up to two million acres. You can also track how fast you are traveling on a boat.
What is different about the 7SV? Apart from the larger screen, you have built-in Wi-Fi so that you can install updates automatically as well as download waypoints created by other anglers.
A big letdown for this fish finder is that it does not have a map or chartplotter. You can see your current location on a blank screen.
How to Choose a Right GPS Combo
Although the concept of this handy device might seem rather straightforward, there are some critical components that you have to watch out for before making your final decision. First of all, you have to pick a unit that has GPS built in, and then you will need to look at these different factors.
Size
While this is not a golden rule, a simple way to measure how high-end your fish finder is is to compare the size of the unit itself. Generally speaking, small devices will not have as many features as larger ones, nor with they have as much power. Thus, if you limit yourself to small bodies of water (or fish on occasion rather than frequently), a little fish finder may be all you need. However, if you like to go out on the open ocean, then you'll need something a bit more robust.
Screen
As far as productivity goes, having a high-quality screen is imperative to your fish finder. If you can't make out what's going on on display, then what's the point of having this device on your boat in the first place? Screen size is one of the most crucial aspects of your fish finder, as it will determine how well you can use the device.
The other thing to compare with regards to the screen is if the display is black and whiter or in color. Lower end models won't have any color options, meaning that they can be harder to use because you have to try to distinguish black and gray shapes from each other. The color is by far the best in this case.
Transducer
When looking at different fish finder models, you will see that some of them don't come with a transducer. This is the device that sticks into the water and shows you what's beneath the surface, so you want a transducer that is powerful enough to get to the bottom of whatever body of water you're currently in. Another thing that you should be looking out for is whether the transducer will provide the only bottom down readings, or if it will also measure out to the side for a more comprehensive view surrounding the boat. I would highly recommend getting a unit that shows both so you get the best results possible.
Depth Range
To make sure that you're getting the most out of your finder, you have to be sure that you're getting a sufficient range of depth. Again, if you're in shallow waters all of the time, then a low-end model may be sufficient for your needs. However, if you like to go into big lakes or deep-sea fishing, you need something that has a longer range.
Shallow fishermen should be fine with about 500 yards or so, while sports fishermen should get a unit that can go up to 1500 feet or more so that they can see everything that's beneath them.
What's a Good Price for a Fish Finder with GPS Combo?
If you're new to the concept of a fish finder, then you are probably wondering how to choose the best model without breaking the bank. Unfortunately, prices for different models can vary wildly, which means that it can be tough to figure out when you're getting a good deal. While I can't say what is best for you because I don't know your budget requirements, here's a chart to help you get started.
Lower-end models will start at about $150 or so and go all the way to about $300. If you are casual fishermen or want something quick and dirty, then this will be your price range.
Standard models can range from about $350 to $700, depending on the brand and the number of features included. Also, you can find a fish finder about $500. Best of all, these finders usually come with color screens so you can see what you're doing. This price range is best if you want something more reliable that's easier to use.
High-end models will be anything over about $750, but they can go all the way to a couple of thousand dollars. These devices are for either professional fishermen or anyone who is dedicated to the sport of fishing. I would highly recommend buying a more expensive model if you go out on the water more than four or five times a month.
Final Verdict
When comparing the different models that we saw on the list, I would have to say that my top pick is the Lowrance HDS-Live as a best fish finder GPS combo. This particular finder has everything you need to track where you're going and see what's happening beneath the boat. The readout is sublime and easy to follow, and overall this is a fantastic machine for anyone who is serious about fishing.
---
We like to share product recommendations with you and hope you like them! Just to make you aware FishingLab may collect a small share of sales or other compensation from the links on this page.
---