6 Best Fishing Rod Rack 2021 – Top Models Reviewed (Holders, Case, Vertical, Storage)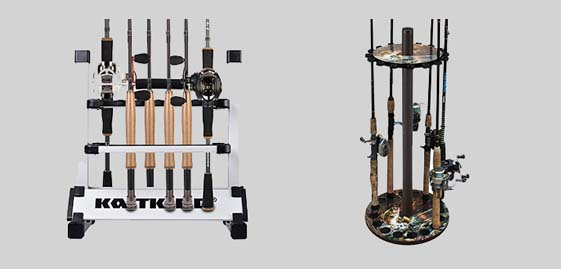 If you are a collector of fishing rods, you need to consider buying one of the best fishing rod racks for your trophy room. With a fishing rod rack, you can store all of your rods in one neat and tidy place, minimizing the risk of damage and clutter that fishing rods are easily known to experience.
These six fishing rod racks are some of the most popular that you can find, from such brands as KastKing, Berkley and SeaSense. We will observe both their pros and cons to help determine which one is the best of the bunch.
Without further ado, here are each of the racks that we will look at today.
Best Fishing Rod Racks Comparison Table
Berkley Fishing Rod Racks
Rush Creek Creations Round 16 Fishing Rod Storage Rack
KastKing Fishing Rod Rack – Perfect Fishing Rod Holder
Organized Fishing Horizontal Ceiling Rack (Editor's Choice)
SeaSense Single Piece 3 Rack Rod Holder
Recommended 6 Best Fishing Rod Racks Reviews
1. Berkley Fishing Rod Racks
This first fishing rod rack is from Berkley. It has a simple and minimalistic design to it, so it won't display your rods in any fancy way. It simply holds your rods and nothing else. This rack can securely hold up to six fishing rods.
This is a lightweight, yet durable rack that is made of hard and thin plastic. The rack itself is resistant to corrosion so that it will always look neat and presentable throughout the years that you use it.
Underneath this fishing rod rack is a foam grip pad, so that these racks do not move. This ensures that the grip doesn't move or cause your collection of rods to fall over.
This rack is fairly easy to install, and there is no rule on what this fishing rod rack can and cannot hold, but it does not say on the packaging which rods are and aren't eligible.
He achilles heel of this fishing rod rack is its foam. It is not that secure, and it is sure to slip right off the foot of the rack one of these days. The glue that is used to secure these pads is not all that secure.
2. Rush Creek Creations 16 Fishing Rod Storage
Rush Creek Creations sells a fishing rod rack that has a carousel design. This rack stores a total of 16 fishing rods all in a circular path. This rod is also available in three different colors. The color we have is a natural tan design, but it is in our opinion the best looking. The other two colors are dark brown and camouflage.
The wood is laminated, so not only is it highly tolerant to water, but it has that shiny and burnished look. This fishing rod rack can double as a nice piece of decor for any room in your home. This is a compact fishing rod rack that occupies very little space.
Each rod is clipped on top and has a padded slot for the bottom, making for a comfortable place for your rods that will guarantee that each of your rods won't fall over. This fishing rod rack only stores freshwater rods.
Because this storage rack is round in nature, you will find it best to place this rack in the middle of a room, opposed to against a wall. This is so that you can access all of your fishing rods conveniently. This rack does not spin like a carousel, so you will have to reach around to find the rod you want, if it is placed against your wall.
3. KastKing Fishing Rod Rack – Perfect Fishing Rod Holder
We have reviewed KastKing's rods and reels in the past, and they are some superior quality products. Can their fishing rod rack follow suit?
This rack holds a total of 24 different fishing rods; 12 on each side. The rack is made of aluminum, which is very sturdy and will not wear out so easily. This rod is great for any and all kinds of fishing rods.
This fishing rod rack from KastKing also assembles easily with no tools necessary. When you assemble it, you get an end product that looks professionally built. Furthermore, the legs of this rack are reinforced so that it does not fall over one way or the other.
With professional features comes a higher price point than other fishing rods. You pay a lot for this fishing rod rack, yes, but what you pay for is unquestionably above average quality. It is also understandable if you do not want to pay that much for a rack for your fishing rods, either.
4. Organized Fishing Horizontal Best Fishing Rod Rack
This is a simple fishing rod rack by Organized Fishing. The one unique feature that this rack has going for it is that it mounts to a ceiling. You hang it horizontally. This rack is made of oak wood, but there are others that are made of wire. The wood rack looks better, in our opinion.
By mounting this rack to the ceiling, you don't have to dedicate any space to your floor or wall to hang this rack on. It is meant to save you space while still having your rods available within an arm's reach.
But not every angler has a room where they want to store their fishing rods that has a ceiling that is low enough. This would mean that you would have to relocate this fishing rod to a different room if your trophy room doesn't have a low enough ceiling. A bedroom or kitchen may not be some of the most ideal places to hang this.
You can also hang this on the wall if you'd like. It has to be hung in the right direction, however, so that the fishing rods are able to stay secured.
5. ODDSPRO Fishing Rod Rack
The ODDSPRO Fishing Rod Rack is one that is effectively functional as well as aesthetic in nature. For starters, this rod rack is compact and can save many anglers some space when storing it at home and even when brought out for fishing.
It can hold a total of six rod and reel combinations. This allows for quick set-up switching at a moment's notice. Along with these, anglers can also bring various fishing accessories with them.
The aluminum material that makes this fishing rod rack makes it quite light and easy to bring around. The portability helps a lot whether moving it around at home or taking it on your fishing trip.
Apart from the portability, another noteworthy quality of this fishing rod rack is that it is waterproof. This means that – barring any major impacts – it can be used for years to come.
If anything does happen to these fishing rod racks though, you need not worry. It comes with a lifetime warranty.
6. SeaSense Single Piece 3 Rack Rod Holder
The SeaSense fishing rod rack is similar to Brocraft's only that it can hold only three rods at a time and is made in one piece. It's its all in one design, you aren't subject to a single part failing that would ruin the entire product.
Since it is made in one sturdy piece, it is bound to last longer. This rack is white in color, and is made of plastic.
These racks can be mounted to your wall or boat, so you can conveniently store your fishing rods any place that you prefer. This fishing rack can also store tools like pliers and knives. SeaSense's rack is fairly simple to install, with a hardware rack included.
Despite all that this rack offers, the material is rather questionable. It is made of some sort of plastic, but which kind remains a mystery. It is rather flimsy and can be prone to crack. We are skeptic on this rack's quality.
The best fishing rod rack that we suggest you buy is none other than the Organized Fishing Horizontal Ceiling Rack for Fishing Rod Storage.
This rack is versatile, where you can either hang rods on your wall or ceiling. Because this rack can be installed on your ceiling, your rods are completely out of your way. Furthermore, this rack can store a decent number of fishing rods.
---
We like to share product recommendations with you and hope you like them! Just to make you aware FishingLab may collect a small share of sales or other compensation from the links on this page.
---