The 7 Best Fishing Fillet Knives 2021 | Top Quality Models Reviewed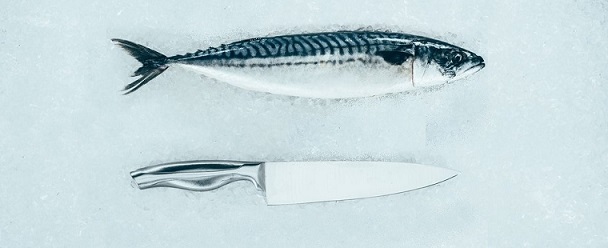 If you are cooking with raw fish, to can be very hard to remove the bones from the fish and keep the most meat possible intact. Something is typically sacrificed when attempting to fillet fish; Either you waste too much time, you destroy too much meat on the fish, or that filleting fish is just so hard to do.
However, you can buy specialty knives that remove bone from fish effortlessly, without wasting time or ruining meat. These knives offer much more flexibility in order to better remove bones than what stiffer knives can. Whether you are a fisherman that wants to make a quick meal, or a cook that is looking to make some gourmet seafood dinners, a fillet knife can do you wonders.
Here are seven popular knives from brands like Rapala, Bubba Blade and Dalstrong. Each knife contains many benefits, as well as one or two detriments. Which is the best fishing fillet knife? Read this article and find out for yourself.
Comparison of Best Fishing Fillet Knife - 2019 List
Rapala Heavy Duty Electric Fillet Knife
Kershaw Clearwater 7'' Fillet Knife
Rapala Fish n Fillet Superflex Knife
DALSTRONG Fillet Knife – 7″ Flexible (Editor's Choice)
Morakniv Fishing Comfort Fillet Knife (Editor's Choice)
Bubba Blade 9 Inch Tapered Blade Flex Fillet Knife
Rapala Lithium Ion Cordless Fillet Knife
Recommended Top 7 Best Fillet Knives for Fishing 2019
1. Rapala Heavy Duty Electric Fillet Knife
Rapala is a well-known name in premium kitchen and cookware for good reasons. This is their first of two fillet knives that they have available. This is a reciprocating blade that is seven and a half inches in length.
This blade comes with a heavy-duty motor that makes filleting more effective than a fillet knife without a motor. It can move in twice as fast and three times as powerful as an ordinary motorized fillet knife. Thanks to this motor, the knife weighs nearly two pounds, which is slightly heavy.
The handle is made to fit comfortably in your hands, so that you can hold it with no pressure at any type of angle. Whether or not you really have to dig deep inside of a fish to remove a certain bone, you won't feel uncomfortable by any means as you use this knife.
The cord on this motorized fillet knife is 8 feet long. Not too short where it wouldn't reach, yet not too long where it would be in the way or serve as a tripping hazard.
The blade from this knife can be removed, and you can safely put it in the dishwasher like any other knife. Never ever put the motor in the dishwasher to clean, otherwise it will no longer work.
The one thing we would like to point out about this knife is that when you turn it on and use it, it does not feel all that safe. It rather feels like the blade will some off or fall apart at any second. While it does work like a charm, it still is not a good feeling to have the blade rattle in a way like it is about to fail on you.
2. Kershaw Clearwater 7'' Fillet Knife
Kershaw is another reputable company that makes kitchen knives. This knife does not come with an attached motor. This blade in particular is seven inches long, but they also have a version that is nine inches long.
This blade is said to be made of the same steel used by authentic Japanese katanas. The steel is stainless and is also resistant to corrosion, so that no stains or signs of wear appear on the blade for a long time.
Even though this blade is strongly influenced by Japanese steel and weaponry, it is made in America. Furthermore, this knife has a lifetime warranty.
Its textured, soft rubber grip makes handling with this knife easy. It even feels professional in your hands.
You can use this blade to cut a large array of seafood, including salmon, tilapia, snapper, cod, tuna, catfish and eel. The blade on this knife can cut through meat easily, as it boasts decent flexibility.
This knife does come with its own ABS sheath, which is like a cover for the blade when you are not using it.
Truth be told, however, this is not the sharpest knife that you can buy. It won't cut through rock-hard foods, and you will often find yourself needing to re-sharpen it again and again. Sharp knives are important for making fine cuts and fillets in fish, so this is one thing to take into consideration. Don't get your hopes up, if you think the warranty will cover this problem, either.
3. Rapala Fish n Fillet Superflex Knife
This next knife is the second from Rapala. Unlike the first, this blade does not come with a motor. This knife has a six-inch blade, but there are other versions that come in four and seven and a half inches. This knife has a nice, timeless design.
This Superflex name is as its name implies: It is super flexible. You can work around fish mean and but out bones easily due to how effortlessly it bends and snaps back into place. With this blade you have plenty of flexibility and control. Thanks to the non-stick coating that this knife has, filleting will be a cinch.
The blade on this knife is also stainless steel. It will not stain or rust quickly, making in a clean and safe blade to use for a handful of years.
The handle is made of wood, and it is carved professionally. The wood looks fine, but as you might already know, you cannot wash wood in the dishwasher. You will need to wash the blade by hand. This knife comes with a leather sheath that looks very nice and sophisticated.
4. DALSTRONG Fillet Knife - 7" Flexible
Dalstrong also has a great reputation with creating quality cutlery. This knife in particular has a seven inch long blade, and is almost six ounces in weight.
This knife is said to do a lot more than just cut and fillet: it can descale, skin, de-bone, trim and butterfly not only various types of fish, but also beef, chicken and pork.
The blade is 1.5 millimeters thick, making for super-fine cutting and easy filleting. This is a highly flexible knife that will make filleting easy and pain-free. It is also made out of high carbon German stainless steel.
This knife comes with not one, but two sheaths. One is made of plastic, and the other is made of leather. The leather one is for use while traveling or outdoors.
The handle is ergonomically designed, is laminated, and is made out of silk smooth pakkawood. It feels very comfortable in your hand, and will make the filleting experience much easier for beginners and experts alike.
This is also a knife that is easy to clean. It is a dishwasher-safe knife, and while the handle is made from pakka"wood", this material is actually a composite of wood and plastic. You can easily wash them by hand or with a dishwater without any trouble.
A problem that you might happen to have is that the knife's blade might not snap back into straightness. After using the knight, the blade might have a slight crook in it from being bent too far back, and this can lead to problems the next time that you use it.
5. Morakniv Fishing Comfort Fillet Knife
This knife from Morakniv has a blade that is 6.1 inches long, and it is also nearly six and a half ounces in weight. The blade is made from a Sandvik stainless steel that is razor sharp, and is incredibly tough. Sandvik steel is from Sweden. There is also a smaller version of this fillet knife that has a 3.5-inch blade.
The blade's thickness is almost 2 millimeters. This blade is thick and tough as it is flexible, so Morakniv found a happy medium when considering these two qualities. The blade also has a high level of corrosion resistance.
The rubber handle is soft, high in friction and gives you an amazing grip that allows you to fillet fish effectively. The one thing we want to criticize is the color. Yes, the neon/lime green tips give it something that is easy for you to identify, but we personally would have preferred a different color.
Included with this knife is a plastic sheath that you can clip to a belt. This gives your knife added portability when you want to use it outdoors and while fishing.
The one thing to watch out for is the sheath. It is not well made, and the clip that attaches to belts can easily detach itself. We would suggest buying another knife sheath that comes with better quality materials.
6. Bubba Blade 9 Inch Tapered Blade Flex Fillet Knife
If you come across a knife with a bright red handle, odds are that it is a Bubba Blade. This fillet knife comes with a strong blade that is made of stable and well-balanced steel that can be effectively used for cutting and removing bones from fish. The blade is nine inches long and is 11.5 ounces heavy.
The blade is also coated with a non-stick surface so that meat slides off the blade and does not stick to it. This blade is also razor sharp, thanks to it's 58 Rockwell hardness rating, and does not rust, either, since it is stainless steel that is bonded with titanium. You know that you are getting an industrial strength knife.
The red handle, in our opinion, looks rather goofy, but it is actually no laughing matter, either. This non-slip grip handle is made of thermoplastic polymer that is inside of a rugged synthetic rubber. The textured lining gives you extra security when clutching the knife in wet, moist conditions.
The sheath that comes with this knife, which is more like a snug sleeve is made of synthetic plastic, and can hook onto belts and other apparel with a hole on it.
The one thing we are not entirely sure about is the long blade that this knife has. If you want to cut hard, tough meat, you will enjoy using this knife. If you want to fillet fish with this knife, the excessive length might make it more clumsy to use, unless you are cutting large tuna or something else that is big.
7. Rapala Lithium Ion Cordless Fillet Knife
This last knife that we will review is another one from Kershaw. Like the first knife, this one comes with a motor. This knife is 1.7 pounds heavy, and its blade is seven inches long.
This knife looks and feels like a power tool. This is a cordless knife that gets a charge by plugging it into a wall socket. This knife can run nonstop for 80 consecutive minutes, and it takes around less than two hours to get it fully charged. This knife runs on lithium in batteries.
The motor is quiet, and produces a high amount of torque for filleting fish. The motor does not require a lot of heat, and therefore, you do not decay the life of the motor with each use.
There is a lot that Rapala has not told us about this knife, such as what the blade is made of, what the handle is made of, and what kind of wattage that this knife uses. It also feels very different from a typical fillet knife. As expressed earlier, it feels more like a power tool. It will feel very different when you use it the first few times, and it might not be something that the average chef can get used to.
Buying Guide: Things To Know When Choosing the Best Fishing Fillet Knife for the Money
Blade
Nearly all fillet blades are made of steel, of the stainless variety. Even though they are all classified as "stainless" steel, some steels are more stainless than others. Quality blades are made with special steels from countries such as Germany, Japan or Sweden. If the blade was made in China, it is very likely that the manufacturer will not tell you where it came from.
The basic rule of thumb for buying fishing fillet knives is to buy one that comes from a trusted brand of manufacturer. If you buy a cheap knife, then odds are its quality is cheap as well.
Another thing to consider, especially when it's a blade seven inches long or less, is its flexibility. You need a flexible knife so that you can maneuver with smaller fish. Longer blades are typically for bigger fish. Thicker, firmer blades are also necessary for filleting fish that are larger.
Blade Length
Fish fillet knives are usually in three different sizes: long, medium and short. The short blades are mostly idea for sunfish, panfish and perch. A short blade is around six inches or less.
Medium sized blades are around seven to seven and a half inches in size. These knives are for filleting fish such as walleye, bass or trout.
Large fillet knives are in between nine to ten inches in length. These blades for filleting bigger walleye, tuna, northern pike and so on.
Handle
Believe it or not, but the handle of the knife is also very important when looking for the best fillet knife. The more fish that you need to fillet, the more you will have to rely on the handle to help you gut them all.
With grip and comfort, you have control. It does not get any simpler than that. Fillet knives traditionally come with wooden handles. Today's fillet knives will be made of rubber or plastic for more grip and comfort than wood. Wood handles can also make it slippery when handling fish guys as you work towards filleting a big catch.
For wood handles, you will have to clean and rinse them off by hand. Putting them in the dishwasher will ruin them, as wood quickly absorbs water and causes it to rot.
Some handles also come with indented finger grips so that you can place your hands exactly where to go. The shape of the handle can also make it easier or harder for your to get control of your best fishing fillet knife. These indented grips might not be the most ideal, as there are some knife owners that have hands or fingers that are too big or small for them. An alternative to indented finger grips are textured grips, that are usually made of rubber or another material.
Motorized Knives
Motorized knives work well, without you having to do much effort. They usually come with rechargeable batteries so that you can use your knife on the go. Some motorized knives can even connect to your boat's battery or in a car cigarette port for additional battery life.
Of course, when a motorized knife has no life in it, it does not work well as a normal fillet knife. Motorizes knives only work as intended, and you need electric power or charge for them to work for you to the fullest. Usually, normal fillet knives have the edge over motorized knives for being more versatile, being used anywhere and anytime, and being overall lighter.
Final Verdict
The fishing fillet knife that we most recommend to you is none other than the Morakniv Fishing Comfort Fillet Knife.
This is a highly reliable knife that has just the right length, just the right thickness and just the right weight. It is a highly comfortable knife to use and will last a number of years. You can enjoy various bone-free meals with this knife.
While the motorized knives are neat in their own right, you can take this knife anywhere you go, and it only stops working when you give up on it.
Dalstrong's knife comes at a close second, but if it were only a little thicker, it would solve the bending problem that its blade has.
It's true that this knife does not come with a very decent sheath, but you can always buy a new one that will work several times better and fits this knife life a glove. Everything else about this fillet knife is professionally made, and you will be very pleased to have it in your collection when you need it.
---
We like to share product recommendations with you and hope you like them! Just to make you aware FishingLab may collect a small share of sales or other compensation from the links on this page.
---