The 7 Best Crankbait Reel 2021 – Comparison and Our Recommendation (Speed, Ratio, Setup, Reviews)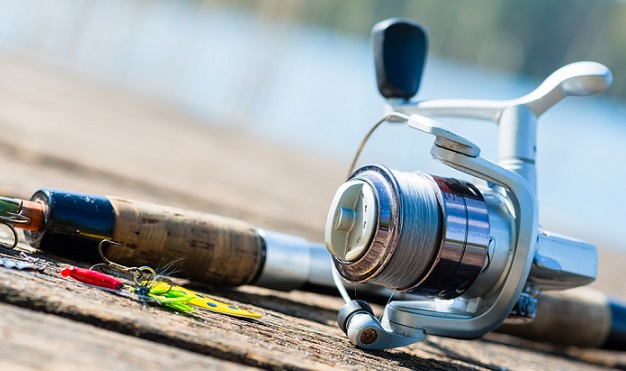 For those that are not aware, crankbait fishing means that you are using a piece of bait that looks real to a fish, but it is not. Crankbait fishing is also fairly easy for novice to expert anglers, as the gear ratio on the reel allows you to reel the catch in slowly and effectively. If you aren't sure which type of reel you would like, we consider a crankbait reel.
Which is the best crankbait reel? Read our review down below and discover the great brands and models for yourself. We will examine and try out some of the most popular crankbait reels from brands like KastKing, Shimano and Abu Garcia. At the end of our review, we will pick the reel that we recommend the most for anglers like you.
Without further ado, here are the most sought after crankbait reels.
Best Crankbait Reel Comparison Table
KastKing Royale Whitemax Baitcasting Reel
Piscifun NEW Torrent Baitcasting Fishing Reel (Editors Choice)
Abu Garcia BMAX3 Max Low-Profile Baitcast Fishing Reel
Abu Garcia Revo SX Low Profile Fishing Reel
Sougayilang Baitcasting Fishing Reel
Shimano Curado K Baitcast Reel
Best Crankbait Reel In-Depth Reviews 2019
1. KastKing Royale Legend/Whitemax Low Profile Baitcasting Fishing Reel
KastKing has a great reputation for making quality fishing equipment. This reel in particular is available in either white or black and red. So you have options when it comes to color if you don't like the plain black look.
The ratio on this reel is 7.0:1, making for a quick and silent retrieval of your lines. There are also 11 plus 1 ball bearings to ensure that the crankbait reel lasts a long and productive life, not to mention encourages silky smooth casting, as well.
The KastKing Royale Legend also has a magnetic brake system, so you can control how far you want to cast your line. There are certain distances where the best fishermen intend to throw their lines, and this allows you to not throw it too far or not far enough.
The EVA padded foam handles are also a plus, they're great to hold, they're beefy, and they do not cramp your hands in any way. You can reel your catch in with comfort and not have to expect any compromises.
Don't count on something to go wrong with this crankbait reel, but when it does, you will have quite a problem on your hands. You will need to examine this reel each time you use it to fix any possible minor problems before they become major. When problems get more serious with this reel, such as rough casting or encountering tangles in your line, you will need professional help to solve the problems with this reel, and that is not very ideal for when you just want to fish.
2. Piscifun NEW Torrent Baitcasting Fishing Reel
Piscifun is another fishing company that is reputable. In fact, it has many of the features that works with the KastKing reel, but there are also a few minor differences that you could quickly notice, too.
The reel ratio is 7.1:1, ensuring a speedy and silent line that you can cast and reel back every time. This reel also comes with a handy magnetic brake system, so you can control how far you would like your cast.
The one unique feature is that you can pour oil inside of this reel to prevent it from rusting or slowing down. With a hex wrench, unscrew the screw, and the hole revealed is where you can place oil if need be. This part is easy to do no matter what your skill level is.
The gears inside, however, are also quite strong, made of Japanese Hami cut brass. These gears are also climate resistant and can take quite a beating.
The handles are also made of EVA foam, ensuring that you have comfort as well as control when you are reeling you catches in.
What does not work well with this crankbait reel is that the drag is far from smooth, at least that is what we have experienced. When reeling in with this reel, expect a shaky and aggressive experience. This can really affect your performance as well as your likelihood of landing your catches.
3. Abu Garcia BMAX3 Max Low-Profile Baitcast Fishing Reel
This is the first of two crankbait reels from Abu Garcia. This one does not intend to disappoint by any means, even though there are some faults with it that we have noticed by using it personally.
This reel is lightweight overall, with many parts and materials that weigh as much as a feather. It weighs just 7.3 ounces. You can thank the graphite body for this, as the graphite in this reel is thin, yet durable.
The gear ratio is a 6.4:1, which allows for easy adjustability. Even if you set it at ten to twelve pounds mono, you can easily cast your line a great distance without any trouble. You can drag your line very smoothly also, with minimal complications.
The grip is also very comfortable to hold, and it makes you the master of your angling, to say the least. This is an ergonomically designed reel that will allow you to enjoy fishing in comfort for several hours.
The bad news about this reel is that the handles are just a bit too small. Because these handles for reeling catch in are small, it is harder for the average hands to get a good grip on them. Also, it might strain your hands or appendages just by attempting to grip it with enough resistance. We would have appreciated if the reel handles were bigger, but we could also understand if they intended to have it small so that it could store better.
The Shimano SLX is a quality and versatile reel that could become your go-to reel. One of the most noteworthy qualities of the Shimano SLX DC 151 is how you can use it to great effect in any situation.
Whether it is in salt or freshwater, or utilizing a variety of lures, this reel will work wonders in helping you catch fish with ease.
The casting and retrieving process goes by fairly smoothly. Control is a prime focus for this reel, allowing anglers to cast with precision. Add to that the immense durability and manageable weight, and you have a reel that can be used well for years to come.
This reel has a new technology called SVS Infinity. It allows for a standard spooling control and good brake force. It uses inner friction to ensure that spool speed can be controlled with precision. There is also an adjustment knob that allows anglers to fine tune it quickly for certain situations.
5. Abu Garcia Revo SX Low Profile Fishing Reel
This is the second of two Abu Garcia crankbait reels. The gear ratio is a 7.3:1, and it weighs 11.2 ounces, which is the heaviest of the crankbait reels thus far.
This reel feels like a high-quality piece of equipment. It is very durable, and the weight of it really helps to show anglers that this could be a reliable and tough piece of hardware. The stainless steel dual bearing system also makes it easy to reel in big fish.
This reel has what is called "carbon matrix drag" to give you buttery smooth drag pressure to make your experience easier and less rough.
The grips of this reel are made of large EVA foam knobs, making gripping the handle easy and pressure-free. Its ergonomic design makes casting and reeling easy without any hurdles to jump through.
You can use this reel in both freshwater and saltwater situations. If you drop this reel in the water, or it gets wet, that is nothing to worry about, as the reel is also corrosion resistant.
The downside to this reel is that it is only recommended for using to catch large fish. It is more harder to catch small fish with this reel because the smaller fish have larger windows of escape. Furthermore, the extra weight on this reel might not be what some fishermen will get used to, despite how greatly it has been designed.
6. Sougayilang Baitcasting Fishing Reel
Sougayilang presents us with a very affordable fishing reel. Its gear ratio is revealed to be 7.0:1 and it weighs 7.6 ounces. It has a lightweight graphite shell with an aluminum handle.
The grad system on this crankbait reel comes with 18 pounds of dragging power, so your drags are always smooth, powerful and effortless. The reel also has 11 + 1 ball bearings, to ensure that it lasts as long as possible.
With its aluminum body, it will not rust or corrode from exposure to water. In fact, you can use this reel either in fresh or saltwater with hardly any problems.
This reel also uses rubber cork handles so that you have a nice grip on the reel as you reel in your catch.
The magnetic brake system is also a plus, allowing you to cast as much as you want without the line actually traveling too far away. You can control the distance that your bait travels without worrying about over or undercasting.
This crankbait reel by Sougayilang comes with a one-year warranty. With the price that this reel goes for, we consider it a true steal. If by chance this reel goes wrong, and you didn't roll it over with your truck, you could have the reel replaced with a different one at no cost to you.
The biggest flaw with this reel is that the magnetic braking system is ineffective. We barely notice a difference between casting freely and using the system as we throw a line out. This braking system could use work, otherwise fishermen will have to turn into physics experts in order to cast at the right distance.
7. Shimano Curado K Baitcast Reel
Last but not least is the Shimano Curado K. This is considered a premium crankbait reel made of graphite. The gear ratio is 8.5:1 and it weighs 7.6 ounces, which is the same as the previous reel.
This reel promises a very smooth and powerful reel with each cast. The drag is unprecedented, with no roughness or aggressiveness to be expected.
Shimano gives this reel a proprietary braking system that makes sure that the line goes as far as you want it to when you cast it out. Even the lightest lures will be easy to brake and control thanks to this crankbait reel.
This is a well designed and professionally built reel that feels very sturdy in your hands. It's gearing allows for easy lubrication, so that it can last a long time. Ball bearings also to be found inside this reel that are meant to last ten times as long as regular stainless steel bearings.
This reel is made of "C14", which is said to be stronger than graphite. It also cannot rust, since it does not contain any metal.
This is known as a professional crankbait reel, so if you choose this as your very first, just know what you are getting yourself into. This learning curve that comes with this crankbait reel is rather steep. Furthermore, this is known to be an expensive reel, as it is said to be a premium reel with additional features not found in more common crankbait reels.
Crankbait Reel : Frequently Asked Questions
If you are still confused about which crankbait reel intrigues you the most here are some answers to.
What Does The Gear Ratio Mean?
The gear ratio is determined by how many revelations the spool on the reel makes before the handle makes one full revelation. So for example, on a reel with a gear ratio of 5.5:1, every time you spin the reel all the way around once, the spool will turn exactly five and a half times.

Reels with low gear ratios (5.0:1 to 5.9:1) are good for big baits that require a lot of pull. These kinds of reels have high rates of torquing power, and require you to use less effort, dedicating more focus in finding the catch that you are reeling in.

Reels with medium gear ratios (6.0:1 to 6.9:1) are good for multiple different approaches and techniques, and they are most common among the fishing industry. Medium gear ratios do best for fish that are medium in size, simple as that. If you are anticipating abrupt strikes, reels with this gear ratio threshold will work best.

Reels with high gear ratios (7.0:1 to 7.9:1) are great with any fishing lure. You will need a lot of strength to pull in catches, buy having a fast reel will have its advantages when reeling in larger fish. That fast speed in necessary when pulling fish away from hazards that would otherwise fray your line.

In this case, there are many crankbait reels that come in either speed type, so choose the one that you will feel most comfortable with. We recommend looking for the lowest gear ratio if you are a beginner, as it requires the lowest amount of effort for novice anglers.
Does The Body And Weight Of The Crankbait Reel Matter?
The body of the reel is often known as the shell or housing. It can be made in one of several different materials, such as aluminum, graphite or other materials. Graphite is a light material that does not rust when dropped in saltwater, however, aluminum is a stronger and stiffer material that can take quite a beating. Each material has an advantage over the other. You need to figure out which characteristic is most important to ensure the longest life of your reel in particular.

You would also like to be sure that the reel you choose has a body that is professionally constructed. Be sure that no parts become loose over time, and all the moving parts inside work effortlessly without any backplay. The great thing about crankbait reels is that there are fewer internal parts than spinning reels, so this is not much of an issue.

Weight is also an important factor. The heavier your crankbait reel is, the more fatigue and stress that your hands and wrists will experience. It can even be problematic just by holding the rod for extended periods of time, as this can really put your muscles to the test. With a lighter crankbait reel, you can have less strain on your hand, wrist and forearm, and you will be less fatigued over time as well.

There are some reels that are professionally built, but at the same time, that could lead to heavier hardware that your body might not tolerate that well. Weight is very important not just to ensure a comfortable fishing experience, but to prolong the life of the reel if you choose to buy a high-quality reel.
The best crankbait reel that we have chosen for you is the Piscifun NEW Torrent Baitcasting Fishing Reel.
This reel does a lot of things really well, such as include magnetic braking and come in an ergonomic design. The feature that sets it apart from all the rest is the lubrication hole, which allows you to pour in oil so that the inner workings all perform well every time. Even though there isn't any oil included, this is great to have, and is sure to extend the life of your fishing reel greatly. This is why Piscifun's reel is our most recommended for anglers.
---
We like to share product recommendations with you and hope you like them! Just to make you aware FishingLab may collect a small share of sales or other compensation from the links on this page.
---