Best Fishing Pants for 2020 (Waterproof, Winter, Columbia, Nylon)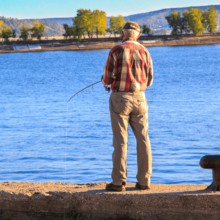 When you go out fishing, you will need to feel comfortable, as well as well-equipped and ready for the unexpected. With that said, you should be in search for the best fishing pants.
Fishing pants are flexible and breathable pants. A good pair of fishing pants should also protect you from the water as well as protect you from the nasty sunlight as you spend your day outside. Fishing pants are meant to keep you cool from the heat and dry from the active body of water. You would also like pants that give you various pockets, so that you can store many different fishing items right on you.
In this review, we will take a look at six pairs of fishing pants from popular brands like Columbia and White Sierra. We will show you what is great and what is not so great about each pair of fishing pants. At the end of our review, we will reveal the best pair of fishing pants that you should buy for your future fishing expeditions.
| | | | | |
| --- | --- | --- | --- | --- |
| Columbia Silver Ridge Cargo Pant | | | | |
| Jessie Kidden Quick Dry Convertible Lightweight | | | | |
| TBMPOY Men's Outdoor Lightweight Waterproof | Extra Small to Extra Extra Large | | | |
| White Sierra Trail 32-Inch Inseam Convertible Pant | Small to Extra Extra Large | | | |
| FLYGAGA Convertible Lightweight Fishing Zip Off [Editor's Choice] | Extra Small to Extra Large | | | |
| Columbia Men's Backcast Convertible Pant | Small Size 30 to Large Size 32 | | | |
Best Fishing Pants In-Depth Reviews
1. Columbia Silver Ridge Cargo Pant
Columbia is the worldwide leader in outdoor apparel. These pants look rather like business pants, but they come 16 different colors.

These pants are made of 100 percent polyester. Polyester is a durable and flexible material, best suitable for rugged outdoor use. This pair of fishing pants can also be used for hiking and camping. These are lightweight pants, making movement in them very simple.
The waistband is elastic, and moving your body is not difficult in these pants. Turn your hips, sit down, stand up, there is nothing that will limit your movements at all.

These pants work to keep you comfortable and dry thanks to their "Omni-Wick" technology. These pants will speed up evaporation and keep out moisture.

These pants feature a UPF 50, so they can prevent sunburn on your legs. Blocking out UVA and UVB sun rays, they work to prevent skin problems from occurring on your legs.

Included with these pants are side, hand and back pockets, so that you can still keep belonging on you safely and securely, such as a gripper or your phone.

While these pants do have definite sizes to them, they all fit one size smaller than normal. We recommend trying for one size up in length and width so that they fit better around your waist and legs.
2. Jessie Kidden Quick Dry Convertible Lightweight Fishing Work Pant
Jessie Kidden as a pair of cargo pants that can be converted into shorts. The colors that you are able to choose from include black, beige, grey and green. You can wear these pants as you go hiking, fishing or on the beach.

When you put these pants on, they feel like putting on a pair of swim trunks. They are changed into short by zipping the legs off. These are a pair of very breathable nylon pants that are loose fitting and versatile. These are lightweight, flexible pants that feel like anything but regular pants.
These are sunproof pants that will protect your legs, so long as you keep the pant legs on them.

The nylon fabric is water-repellent. These are also shorts that dry very quickly, as moisture is quick to leave the fabric and restoring the pants to their original state.

With that in mind, the one problem that these pants have is that the pockets are too small. You might not be able to carry devices or tools in them that you would otherwise love to have on you as you are fishing.
3. TBMPOY Men's Outdoor Lightweight Waterproof Fishing Pants
TBMPOT is the next company to give us fishing pants, and these pants come in eight different colors. These have a simple design with no real gimmicks. They do the job, and to many consumers, that is all they need.

These pants are comprised of 97 percent polyester fiber and 3 percent spandex. Overall, these should be flexible and elastic pants that are comfortable to wear and fairly easy to move around in.
These fishing pants are lightweight, breathable and waterproof as well. These pants are quick drying and moisture does not stay in them for long. They also can protect you on the inside so that you can stay warm in cool outdoor activities, such as fishing right in the lake or river.

You will get a lot of comfort out of the stretchable waistline and belt. Feel free to wear these pants while fishing, camping or even mountain biking or skiing. They are sure to keep you cool in all the hot weather.

These are not waterproof pants, despite TBMPOY's claims. Even though they dry rather quickly, water will still penetrate through them like screen doors. If you are looking to stay dry, do not buy these fishing pants.
4. White Sierra Trail 32-Inch Inseam Convertible Pant
White Sierra is the second of four fishing pants that can be converted into summer shorts. These fishing pants come in colors such as dark green, grey and three different shades of tan. White Sierra's fishing pants are also proudly made in the USA.

You remove the pants legs with a pair of zippers; you zip them right off. They are made of 100 percent nylon and are a highly comfortable and breathable pair of fishing pants.
These pants are sunproof and waterproof. They block out UVA and UVB rays so that they do not get lobster red at the end of the day. The nylon fabric also makes it water repellant so that water stays out and does not get onto your legs. These are also quick drying fishing pants.

There are also various pockets that come with these pants: Two hand pockets, cargo back and thigh pockets, and one just for your phone that has a loop closure. These five pockets make you ready to fish.

These are some oddly proportioned fishing pants, however. Regardless of what size you try on, something will not feel quite right. Get the pants in your size and it will be too tight on your crotch. Get the pants in one size larger for more room in your crotch, and it will be too loose.
5. FLYGAGA Convertible Lightweight Fishing Zip Off Cargo Work Pant
Flygaga has their own khaki fishing pants that also can double as shorts when you remove the pants legs. These pants come in three different colors: Khaki, dark green and grey.

These are sunproof and waterproof pants, so you can enjoy fishing in them without any trouble. The nylon taslon fabric works to shield your legs from any sun damage. The "Omni-Wick" technology also pulls away moisture from the fabric, so that they stay dry and keep you cool in the process.
The pockets featured in these fishing pants include a zippered security pocket, mesh pocket bags and side pockets. You get six pockets overall, give you many options for what to bring for fishing.

You are free to move flexibly and durably in these pants. They feature an elastic waistband for added comfort. The full gusseted crotch also gives you enough room down there.

To remove these pant legs, you just easily zip them off, so that they change into shorts in an instant. You can use these to fish, travel and more.

So far, we have not had any problems with these pants. They work great, they fit great, and they do as advertised without any setbacks. These very well could be the pants that you could take with you fishing.
6. Columbia Men's Backcast Convertible Pant
Last but not least is another pair of fishing pants courtesy of Columbia. Unlike their first pair, these look more casual, and can convert into shorts. The colors available include olive, blue, off-white and grey.

The pant legs, like the other pairs of pants, come off via zippers, so that you can turn the pants into shorts. These fishing pants from Columbia are also lightweight, durable and flexible, so that you can effortlessly move about without any trouble. These shorts also have a mesh liner inside, so when you put them on, they feel like a pair of swim trunks.
These shorts are UPF 50 so that they protect your legs from the sun, preventing them from getting cooked. These pants have a tight weave construction and ceramic reflectors that block UVA and UVB rays. These pants are also very quick to dry.

The problem with these pants, that was never clarified from Columbia, is that the pants do not have a fly. They are put on and come off like a pair of sweatpants. You can definitely wear a belt, but since it might be easier for your pants to get pulled down, you will absolutely need one. All in all, there is no real effort to design these fishing pants as secure.
How To Choose The Right Best Fishing Pants? The Ultimate Buying Guide
If you still are undecided on which fishing pants to buy, you might be having a question or two that you still would like answered. With this in mind, this buying guide gives answers to frequently asked questions when it comes to fishing pants.
What Kind Of People Would Benefit From Fishing Pants?
There are many different people that would benefit from a pair of fishing pants. Aside from people that like to fish, these are great pants for hiking, camping, mountain biking, beachcombing or any other outdoor activities that come to mind. With the sun-blocking capabilities of fishing pants, they are great for outdoorsmen and women who want to wear pants to protect themselves from the sun, but also want to feel cool, feel comfortable and move freely outside.
Why Do So Many Fishing Pants Come In Tan?
You may notice that all fighting pants have a tan option. The reason behind this is that tan is a light and breathable color, especially when wearing this color in warm and sunny conditions. Tan clothes, such as shirts, pants and even business suits are made in colors like khaki, tan and beige so that you have the least probability of sweating. This is why hardly any fishing pants come in colors like black. They are more likely to be made in grey and muted greens and blues.
What Is The Difference Between Fishing Pants And Fishing Waders?
Fishing pants are designed like ordinary pants. They cover the legs and have a waistline and back and side pockets as normals. Hip waders or fly fishing pants mostly called, on the other hand, are a pair of boots or overalls use specifically for fishing and hunting. These pants are meant to be easy to move in as you are standing or sitting along the water's surface, that's why they are ideal for fly fishing creaks and streams.

Hip waders are meant for use directly in the body of water. For fishermen that need to cast a line deep out on the lake or ocean, they will want to get in shallow water where they need protection for their feet, legs and hips. Fishing pants are pants that are supposed to stay dry, for people who fish along a shore, fly fishing, in a boat or in a kayak.

To those that want to fish standing in water, you will want a pair of hip waders. If you are looking to stay out of the water when fishing, you would want to look for fishing pants.
What Makes Fishing Pants Easy And Quick To Dry?
You might be questioning how these pants are quick to block out water and moisture so that they dry faster than other pants that you may own. These quick drying pants owe their benefits to their materials. Many pants are made of 100 percent nylon, which is not just flexible, but quick to dissipate heat. Humidity and heat and reduces, thus drying moisture around the pants and drying faster than usual.
Is It Better To Wear Fishing Pants With Zipped Pant Legs Or No Pant Legs?
There are many fishing pants in this review that allow you to remove the pant legs, so that the pants turn into shorts. When you keep the pant legs on, you get more protection from the sun, but you might feel slightly less comfortable, and wish that you were wearing a pair of shorts. When you remove the pant legs from these kinds of fishing pants, your legs will have more freedom to receive oxygen and move around, however, your legs will be more exposed to the sun, and you will need to apply sunblock to your legs so that they do not get burned. This is rather a subjective question, and which option is better to you really depends on your preferences.
Final Verdict
After careful deliberation, the FLYGAGA Convertible Lightweight Fishing Zip Off Cargo Work Pant is out top pair of fishing pants.

We have not found anything that we wanted to change with these fishing pants. They felt absolutely right, they protected our legs from the sun, they were very quick to dry, they have many different pockets and could be converted into shorts. Their pockets were also not too small and they were very secure around the body, enough size to fit your fish finder if needed. These are the reasons why Flygaga has the best fishing pants on the market today.

While White Sierra's fishing pants came in a close second, they just did not feel quite right when we tried them on. We also recommend you try them out as well, because perhaps you have the right type of body for these pants, and if you do, they might work like a dream.
---
We like to share product recommendations with you and hope you like them! Just to make you aware FishingLab may collect a small share of sales or other compensation from the links on this page.
---