Deeper Smart Fishfinder Reviews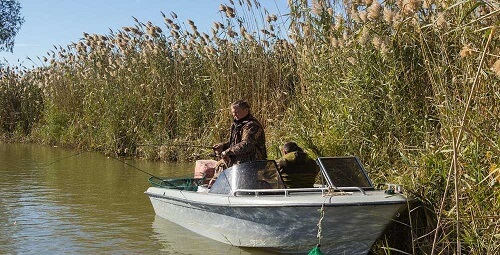 Fish finders are excellent tools for any fisher man to use. They track the fish's movements, you can get a glimpse of the landscape, or use one to find your way around a body of water. While there are many portable fish finders, you may want one that is more compact, and easier to carry around with you.
Deeper Smart is a company that designs fish finders to work with your smartphone and tablet. You don't need to install anything to a boat or kayak, and you can get accurate readings. If you're someone that loves to wander to different fishing holes, you may want to consider getting a Deeper Smart fishfinder.
2 Deeper Smart Fishfinder Reviews 2021
1. Deeper START Smart Fish Finder
WiFi Generator
The Deeper START Smart Fish Finder generates its own WiFi. This means that there is no need to use one's own mobile data connection or bring one to where you'll be fishing.
Small in Size
This castable smart fishfinder is small in size and easy to bring around. Its portability means that it is easy to cast out into the waters and reel up. It doesn't require any batteries and has no additional heavy wirings.
Smart Features
This fish finder has various smart features. They include an automatic switching to night mode with the passing of the time. At the same time, every scan that it does is saved right as it happens. It takes note of the time and location and stores it for future use.
Information
The information taken by this fishfinder is expansive and useful. It takes note of how big or small the fish are, the location, how deep they were seen, and if there is any vegetation underwater. All of this can be accessed via an app that is free to download for both Android and iOS.
Highlighted Features
2. Deeper Smart Sonar PRO Series
Wi-Fi
This fish finder uses Wi-Fi that makes it easy to connect to everything. No matter if you're fishing in your local pond, or in a stream, you can rely on this fish finder. It's practical for those that don't get any service in their favorite fishing hole.
Dual Frequency
The fish finder has a dual frequency beam to help you track the fish. No matter where they are, you can rely on this fish finder to locate the fish. If they're in shallow or deep water, they won't have a place to go.
Different Water
The fish finder can operate in fresh or salt water, making it ideal for those that want to change up their fishing game. You can catch either type of fish when you're using this fish finder in any type of water.
Rechargeable Battery
The rechargeable battery allows you to have a full charge every time you go out. No matter where you're fishing, you can make sure the fish finder has a full battery. It's easy to charge, and quite convenient for those spending a lot of time outdoors.
Highlighted Features
Fish finders are ideal for those that may have a little trouble hooking their favorite catches. Deeper Smart fish finders are convenient and easy to use, since you don't need anything more than your smartphone or table. if you're thinking about getting a fish finder, you should consider getting a Deeper Fishfinder.
One of the best fish finder models is the Deeper Smart Sonar PRO Series. It is compact, easy to use, and you can prepare yourself for any fishing trip. It's a practical device that can help you turn a disappointing trip into a memorable one.
---
We like to share product recommendations with you and hope you like them! Just to make you aware FishingLab may collect a small share of sales or other compensation from the links on this page.
---