Best Cast Net for the Money 2020 – Top 8 Models Reviewed (Fish Net, Drag Net, Fishing Net)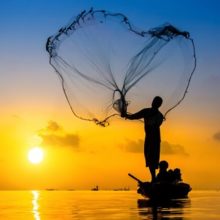 If you are looking to catch schools of fish all at once, you will need what is known as a cast net. A cast net is a large, circular net that has weights tethered around it. The net is to be thrown out in the water by hand and traps whatever is underneath. The best cast nets are designed to stretch out and sink, so that the window for escape to alerted fish is very small.

Cast nets are mostly ideal for fishermen and fisheries that want to cash a school of smaller fish, so they can use that fish as bait in order to catch a larger fish. Fishermen find these nets useful, as they are able to catch several different fish in an instant, rather than catch one fish at a time, like with your typical fishing rod.
In this review, we will be looking at eight cast nets from companies that include Goture, J-Shanmei and Fitec. We will explain what makes them great in addition to explain what they need improvements on. We will then declare which cast net is the best of the best, for your consideration.
Best Cast Net
Betts Old Salt Premium Cast Net
Hurricane Cast Net
Betts My Betts Buddy Chartreuse Net
Goture American Saltwater Fishing Cast Net
Fitec Super Spreader Nylon Fishing Cast Net
FITEC 10143 EZ Throw 750
South Bend Mono Fil Cast Net
JSHANMEI Handmade American Saltwater Fishing Cast Net
Comparison of Best Cast Net Available on the Market 2020
| | | | | |
| --- | --- | --- | --- | --- |
| Betts Old Salt Premium Cast Net | | | | |
| | | | | |
| Betts My Betts Buddy Chartreuse Net | | | | |
| Goture American Saltwater Cast Net (Editors Choice) | 8, 12, 16, 20 and 24 feet | | | |
| Fitec Super Spreader Nylon Cast Net | | | | |
| | | | | |
| South Bend Mono Fil Cast Net | 6.75 feet, 8 feet; 14.75 feet | | | |
| JSHANMEI Saltwater Cast Net | 10, 12, 14, 16 and 18 feet | | | |
Best Cast Net In-Depth Reviews
1. Betts Old Salt Premium Cast Net
The first cast net comes to us by Betta, a reputable name in fishing equipment. This net is available in two sizes: Four feet and six feet. The net's color is white with black small weights attached to it and weights 1 lbs per foot.

Included with every purchase is a utility box, so that you can store the net easily when it is not in use. Inside this utility box, you can also store hooks, tools, lures and other equipment.
This net is easy to use. You can cast this net and it will spread fast and sink down quickly, rapping unsuspected fish with little to no time to escape. The cat net is made of nylon, and there are no places for fish to trickle out.

This case net by Betts also included instructions for how to use the net. This net is most ideal for catching bait.

The problem with this net, however, is that it is very easy to get a tear. You could accidentally have this cast net get snagged, and the smallest tear could become a big problem. Once nylon is ripped, its durability takes a complete 180. With this in mind, you need to be extremely careful with this cast net.
2. Hurricane Cast Net
Hurricane also makes its own line of cast nets. This one is five feet in diameter, which is great for people who want to catch a lot of fish, or a little bit of fish. This is another cast net that is mostly ideal for catching fish to use as bait.

Like this previous cast net, this one comes with its own utility boxes. Not only can you store the net itself, but you can also store items such as lures, hooks and other tools.
This net is great for both freshwater and saltwater. The saltwater will not affect the net in any way, so feel free to use it in saltwater to your heart's content.

Included with this bet are instructions for how to use it. Each cast net has slightly different instructions for how they work, so even if you know how to cast a cast net, you might do it differently as the company that made this one suggests.

These cast nets are made of monofilament. Monofilament is made of fine strands of polyester twisted together and meshed into a fabric.

This net, however, sinks rather slowly. The weights attached to the net are made of plastic, with 0.5 lbs weight per foot and the net slowly drifts down, allowing smart fish to swim away before you can catch them. You would like a net that traps fish almost instantly, and unfortunately, there is no way for you to speed up this action.
3. Betts My Betts Buddy Chartreuse Net
This is the second net courtesy of Betts. This is a net that is 6.75 feet in diameter and 0.75 lbs weight per foot, which is great for women and children to handle. If you have a wife or child who is interested in catching bait fish, this could be something they can use effectively.

The cast net is made of monofilament, chartreuse (green) in color, to be specific. When you use this net to catch fish, the color of the net is supposed to blend in with the water around the fish, making the net very hard to recognize. The fish will be caught before they know it.
What is detrimental to the fish is also beneficial to you, because the chartreuse color is easy to see on the surface of the water. These nets are also available in yellow, red, orange and white.

The knots in this net are all double-knotted and glued in place with epoxy. Because of this, you can make sure that the net never comes undone after dozens and dozens of casts.

This net is included with a utility box, so that you can store not only the net, but other supplies as well, like fishing equipment.

As reiterated, these are a cast nets that will work best for kids and small women. If you are a man looking into using a casting net, you might want to look into buying something that is bigger, so that you can lift as much weight as your strength would allow, and not get small, light catches every time.
4. Goture American Saltwater Fishing Cast Net
Goture's cast nets come in many different sizes. There are five mesh sizes that span from 8 feet in diameter to 24 feet in diameter. The one that we are reviewing is 8 feet in diameter, and this one is clearly large enough.
This cast net is made of handmade monofilament mesh that works to trap bait fish of various different species. It can work in both saltwater and freshwater environments.
This cast net sinks below the water quickly and seals fish quickly. The weights provide a seal at the bottom for a very low probability of escape.

Included with this cast net is a utility box, instructions, and a throwing strap. The utility box is good for storing the net, as well as the strap, fishing equipment and other items.

The throwing strap is meant to be strapped to your wrist, so that when you cast the net, you don't have any chance of losing it to the sea, lake or ocean.

This is a lightweight net making it easy to use and throw. Not matter if you are a novice or a veteran with cast nets, this is a great net to own.

This net, however, is only great to use in shallow waters. It seems to work very slowly in deep water, and will work faster when you trap fish closer to the water's surface. Using this net deep into the water makes it seem like you are bobbing for apples, figuratively.
5. Fitec Super Spreader Nylon Fishing Cast Net
Fitec has cast nets that come in even more different sizes, from 7 feet to 24 feet in diameter and 0.5 weight per foot. These cast nets are white in color, with grey weights tied to the ends.

Included with this net is a utility box, however, the box is not all that spacious, unless you decide to purchase a smaller net. Yes, the boxes are all the same size, despite the nets are not.
Despite all the sizes that this net comes in, you will get a net that feels light, regardless of its size. This net is easy to use and you can throw it rather far.

The flaw with this net, however, is that it does not quite catch fish and seal them in fast enough. This net simply allows fish plenty of time to get away, which is not what you should expect for a net with several weights. It seems as though the drawback to having a light net is that you are working less in gravity's favor.
6. FITEC 10143 EZ Throw 750
Fitec's next cast net is meant to be a net that is easy to use and throw. This net in particular is eight feet in diameter and comes in a clear monofilament. One of the main appeals to the EZ Throw is that the net opens on its own without you having to take an additional step, yourself.

The secret of this cast net is a patented aluminum ring that will displace centrifugal force, making sure that the net always opens as planned and does not ruin your cast.
This cast net includes not an instruction manual, but a CD to show you visibly how to cast with this net. It is very interactive and you can see for yourself how you can throw your net, handle your net, and use certain techniques that pictures or text descriptions won't be able to show you. This is great, but it isn't like it's something you can take with you and learn from on the go.

This net comes in a round carrying case. It's not really something you can store other items in, but this case is meant to stand up sideways and occupy less room.

This net in particular is advertised as an eight-foot net. That is not true, though. This is just a six-foot net. The net might be too small for what you want to catch, but it just might be for your child if he or she is interested in fishing.
7. South Bend Mono Fil Cast Net
South Bend brings us this next cast net, which is white, simple and comes in one of three sizes. The largest is extravagantly larger than the other two, so be careful with what size you buy.

This cast net is claimed to have been made by expert net makers. Whether or not this is a good or bad thing, however is up to you. Some people like the fact that some nets are made by machines, as machines are less likely to make errors in the net-making process. Factory-made nets are known to be cheaply made.
You can use this cast net in any body of water to catch bait, from freshwater to saltwater. There are no chemical reactions to worry about, and it will last for hundreds of different attempts.

The net can trap fish very quickly, and sink below the water's edge fast. You can catch a school of fish unsuspectingly, and they have very little chance of escaping.

This net comes with its own utility box, and there is plenty of room to spare for other tools such as hooks, lures and more.

With all this said, we have found a few holes in this net after about 50 practice throws. While the net is hand, made, that actually might not be a good thing in this case. With holes, you have fish such as minnows that can find easy exits out of your net.
8. JSHANMEI Handmade American Saltwater Fishing Cast Net
Finally, we have this cast net from J-Shanmei. It's a white, nylon cast net that comes in various different sizes, from 10 to 20 feet in diameter. It has sturdy lead weights all around the rim, making it a net primed for any occasion.

This net is made of a strong and sturdy nylon that makes it flexible and rugged at the same time. The cast net works to sink quickly thanks to its weights, and fish cannot get away so fast.
This net is fairly easy to throw, and when you throw it, it spreads out very evenly, guaranteeing to get a lot of bait fish time after time. It is capable of catching fish up to 5 inches in length.

This net includes a bucket for easy storage and transportation. With that said, there is not much room for anything else besides the cast net itself.

The caveat to this cast net is that the mesh is very thin, arguably the thinnest of all the nets in this review. It can be very easy to break one of the fibers of this net and create a hole. You could likely cut these fibers with the edge of your credit card. Is it sturdy mesh? Yes. But if you intentionally try to damage the fibers, you easily could.
Buying Guide: How To Choose The Best Cast Nets? You Should Read Before You Buy!
When in search for the right cast net for you, there are many factors to consider. Here are more specific details about each of the cast net's main characteristics.
Material
There are two materials that best cast nets are made of nylon and monofilament. One material has a couple of different advantages over the other, as well will explain further.

Nylon is good for cast nets, as it doesn't absorb water. Nylon is known to tangle less frequently, so your net will always be in perfect condition. Nylon is however more visible to fish in water, and it does not sink underwater as quickly.

Monofilament is the other material. It can sink down fast and is nearly invisible for fish to notice. The downsides of monofilament are that they can absorb water, as well as tangle more frequently.

If you were to ask us which is better, we would tell you monofilament is better, due to the better performance overall.
Weight
Weight is determined by pounds per foot. Pounds per foot is what determines how fast the net sinks underwater. Usually, the heavier the net, the more strength required to throw, but also the faster they sink underwater.

When it comes to size, we usually recommend buying the biggest net that you are capable of throwing. Most men can use a cast net that is seven or eight feet in diameter.

Some states, however, have put limits on how big of a net you can use. If your state has such a limit, go with the biggest net that the state will allow.

Are there ever instances where small nets are warranted? Not really. Small nets can be for women and children who are not capable of throwing normal sized nets. You will want to use the biggest net possible, because that is what will catch you more fish.
Mesh Size
When you consider the importance of the mesh size, you need to pay attention when you are catching small bait fish, you will need weave size that is smaller, so that the fish stays in the net, where you want them to. If you look to cast in shallower waters, where smaller fish mostly tend to live a mesh size of 24 inch tall per 5 feet long is more appropriate.
However, keep in mind that the smaller mesh size, the slower the net will sink, what makes it less efficient to catch any fish. When you target large fish bait, the mesh size is about 1 inch, to be able to quickly cast and effectively sink the net to catch more bait fish.
Learning Curve
If you are a rookie and have yet to throw a net before, you should pick a net that is made to be easy to throw. There are even instructions that go with some of these cast nets that can show you how to throw a cast net. While a certain net might be proven to be top-of-the-line quality, that doesn't mean much if you do not know how to use it.

Before trying to catch fish in the water, we recommend that you practice throwing in a yard that you may own. You can practice on your own time without ever needing to go to the lake or ocean, and you can better learn how to throw farther and more accurately without having to fish the net out of the water every time.
​

Final Verdict
The best cast net that we consider in this review is the Goture American Saltwater Fishing Cast Net.

We really like the Goture cast net and all that it has to offer. Not only can you buy it in many sizes and you can use it in any type of water, but it also comes with benefits like a wrist strap and an informative instruction manual. This cast net has all the good qualities that a fisherman could ever want out of a net, and the caveat that we have noted for this product really does not weigh it down all that much, either.

You are sure to catch a lot of bait fish with this net, and have minimal problems as you use it for dozens of fishing trips. While the other cast nets are great, as well, we fell that you will not feel fully satisfied like you would owning Goture's net. Don't forget to check out my guide on fish finders which will help you decide with in depth fish finder reviews.
---
We like to share product recommendations with you and hope you like them! Just to make you aware FishingLab may collect a small share of sales or other compensation from the links on this page.
---