Best Fishing Pliers Top 5 Reviewed (Freshwater & Saltwater)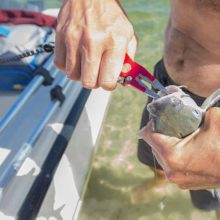 Do you have all the gear you need for your tackle box? There are the standard fishing rod, reel, line, etc. You should also secure tools like the best fishing pliers. You can use this tool for removing/bending hooks, changing split rings, and cutting braid. If you don't have this item, your fishing trip will be less fun even if you land a big catch.
Do you have to spend big bucks on the fishing pliers? You don't. That said, it's still critical to pick a set that is high-quality, super-effective, and angler-recommended. We'll be taking a look at some of the most critical features to weigh when picking a pair of fish pliers, and some of the top models on the market.
Best Fishing Pliers Comparison Table
Aluminum Fishing Pliers by Piscifun
Titanium coated stainless steel
Fishing Pliers Combo Pack by B&M Tool
Aluminum Fishing Pliers by Wolfyok
Titanium coated stainless steel
H1 Fishing Pliers by Booms Fishing
Anti-Corrosion Carbon Steel with Teflon Coating
Best Fishing Pliers Reviews
1. Aluminum Fishing Pliers by Piscifun
Piscifun was founded half a decade ago in 2013 by two friends. The company's name is based on the Latin word Pisci that means "fish." The company tries to make the sport of fishing more fun. These fishing pliers are made of aircraft-grade aluminum and are tough to bend, which is a plus when used for hook removal, fish gripping, and other functions. The pliers provide an effective blend of high durability and stylish design.
This provides good corrosion resistance, which is important when using pliers for freshwater and saltwater fishing. In fact, you can use the tools for a long time without signs of rust or oxidation. Meanwhile, the pliers are also lightweight so ideal for long fishing trips.
Features
Very portable
Anti-corrosion aluminum
Tungsten carbide cutters
Spring-loaded pliers
Makes hook-removal easier
The jaws are made of stainless steel and are titanium-coated. This makes the jaws ideal for splitting rings and removing hooks. The tungsten carbide cutters are 100% replaceable. The pliers are ideal for cutting braided/fly/backing lines.
The handles are computer numerical control (CNC)-cut. This provides high-level precision and good ergonomics for a comfy grip. The handles are lightweight yet durable, which provides good functionality for your fishing trips.
You can also use the pliers with one hand due to them being spring-loaded. This frees up the other hand to use for other fishing-related tasks when operating the pliers.
The fishing pliers are also very portable. They're bundled with a lanyard, sheath, and belt loop. It provides multiple ways to tote the plier's safety and conveniently with you during fishing trips.
2. Fishing Pliers Combo Pack by B&M Tool
These fishing pliers from B&M Tool include a 2-pack combo. This provides more value vs. buying two separate units. It's also a practical option if you have 2+ tackle boxes since you can put one tool in each box. You could also give away one plier as a gift.
The pliers are versatile and can be used for various tasks. They include crimping split shots, opening split rings, and working with lures. You can save time, effort, and money by using a single tool instead of multiple ones.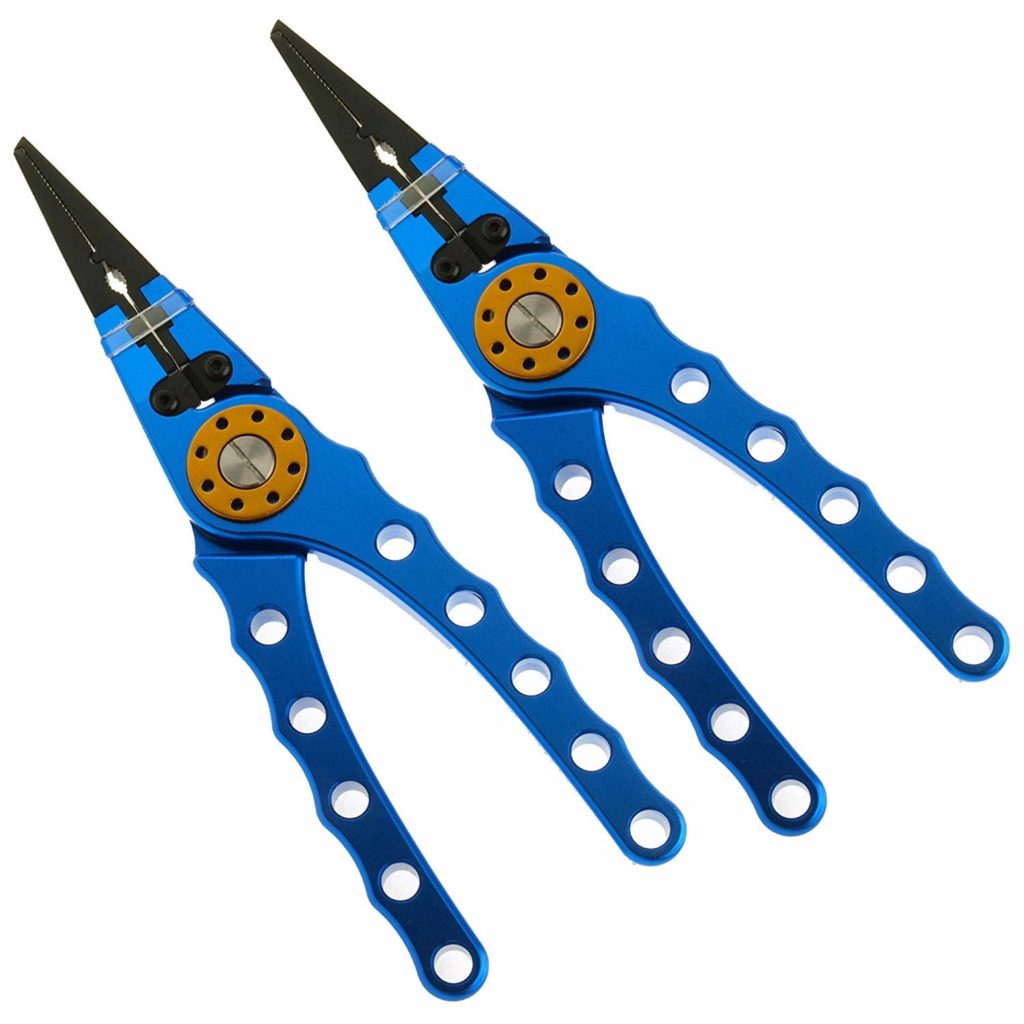 These pliers are double, durable, and corrosion-resistant. The frame is constructed from aluminum alloy and includes stainless steel jaws. These features help to prevent rust and corrosion even when you're doing saltwater fishing.
Features
Corrosion resistant
One-handed use
Comfortable to use
30-day money back guarantee
Multi-purpose versatility
The fishing pliers are comfy due to the light-weight of about 5 oz. and ergonomic grip. You can also enjoy convenient one-handed use thanks to the spring-loaded handle.
B&M Tools offers a 30-day money-back guarantee and 1-year warranty. This helps protect your investment and provides
3. Aluminum Fishing Pliers by Wolfyok
These Wolfyok fishing pliers are sturdy. They're aluminum and corrosion-resistant. They're constructed from aircraft-grade aluminum and are rust/corrosion-resistant. This is especially a plus when using the tool for saltwater fishing.
The aluminum pliers also include stainless steel jaws that are titanium-coated. It's a good tool for removing a fishing hook or rings from the bait.
The pliers also include ultra-sharp tungsten carbide cutters that you can replace if necessary. They provide ultra cutting power for cutting through the mono leader and braided lines.
Features
Saltwater resistance
Made from durable aluminum
Bright color so hard to lose
Stainless steel
Replaceable carbide cutters
The pliers aren't just durable and effective but also ergonomic. That includes easy-grip anti-slip handles. They're also spring-loaded, so you can easily remove a hook and cut fishing line with one hand, which provides easy operation.
The Wolfyok fishing pliers are also available in bright colors. This makes it easy to spot the pliers whenever you need to use them, which is a plus.
These pliers are bundled with a nylon sheath and lanyard. This protects your investment whether you're transporting it from your vehicle or storing it in a tackle box.
Wolfyok also provides a 1-year warranty for all pliers. The company also offers high-quality customer service.
4. H1 Fishing Pliers by Booms Fishing
The H1 pliers are sturdy but mainly designed for freshwater fishing. it's important to keep the unit clean and dry to extend the lifespan, and so it will be ready for your next fishing trip. Any dirt or salt buildup on the pliers could affect the unit's functionality.
Features
Sharp line cutter/small wire cutter
Works as fishing and tool pliers
Classic design/basic functions
Spring-loaded
Stainless steel construction
The pliers can grip objects and crimp shot split lead. You can also repair lures by using the pliers as split ring opener, hook remover, wire/braid cutter.
The pliers can be used for small wire cutter and sharp line cutter. This adds functionality to the unit since you can use the same pliers for multiple functions.
The handle is made of high-quality acrylonitrile butadiene styrene (ABS) plastic. This provides a comfortable/convenient grip for better functionality.
You can operate the H1 pliers with one hand due to the spring-loaded handle. This allows you to use the other hand for the task whether it's cutting, crimping, removal, etc.
The H1 pliers also lock when closed, which is a key safety feature. This is important to protect the plier's users when the tool isn't being used.
The easy operation and safety lock make the pliers ideal for young fishers. The H1 is good for light loads, so it's a better option than heavier fishing pliers on the market.
H1 is also bundled with a convenient sheath, which you can easily attach to a belt. This makes the pliers within arm's reach so you can easily use the tools when you need them.
Here are maintenance tips to use for the H1 pliers:
Rinse pliers with clean water
Dry
Add oil to rivet
Store in cool/dry place
Avoid direct sunlight
The H1 fishing pliers include a money-back guarantee. Make sure to read the details, so you'll know what the guarantee does and doesn't include.
5. Fishing Pliers by RUNCL
Runcl was founded in 2017. The goal of the company was to design reliable and affordable fishing gear. Its goal is to make fishing as basic and enjoyable through game-changing tools.
The Runcl pliers include a sturdy construction since the gripper is constructed of high-quality plastic. This provides longevity/durability and allows the units to function well in freshwater/saltwater conditions.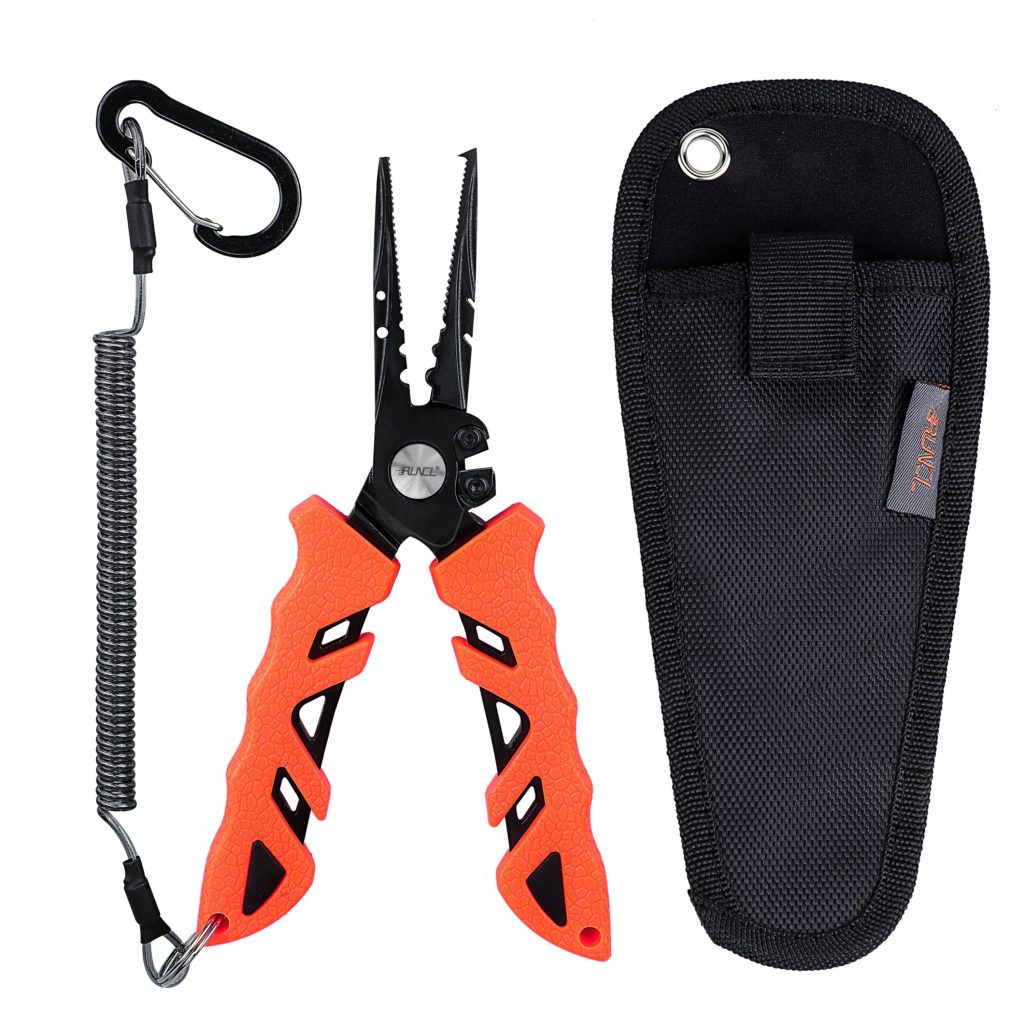 The gripper's jaw is fish-friendly. The high-end engineering plastic provides high durability and also holds the fish both firmly/gently.
In fact, the fishing pliers are a 5-in-1 tool. You can use it for:
Hook remover
Crimper
Split ring pliers
Fishing line cutter
Fish gripper
This adds value so you can use the same tool for multiple functions.
The long nose also provides longer reach. That, in turn, makes it easier to remove hooks, which is a plus when you're removing a hook from a big catch.
The handle includes an ergonomic design. This includes anti-slip function and horizontal lines to provide excellent grip and functionality. That's even the case during long fishing trips when you'll be more likely to deal with wet pliers. You'll be less likely to suffer from sore/tired hands.
The pliers' spring-loaded handle provides an easy one-handed option. This allows you to easily operate the unit with one hand whether you're using the tools for cutting, crimping, gripping, etc.
Features
Bright color so easy to see
Sturdy construction
Ergonomic design
Easy to use
Adjustable lanyard
The pliers are a bright color. This includes the red lip gripper so you can spot the tool easily when you have to use the pliers.
The pliers are also bundled with sheath, adjustable wrist lanyard, and belt loop. This helps to prevent you from dropping/losing the pliers while you're holding a slippery fish. It's another feature that adds value to the pliers and makes it ideal for kayak fishing.
Key Features of the Best Fishing Pliers
Are you looking for new pliers for your next fishing trip? If so then it's important to know what to look for. Here are some of the top features to consider:
Materials
This involves several components. It starts with the pliers' nose/jaws. Look for materials like titanium-coated aircraft-grade stainless steel versus run-of-the-mill aluminum. This will boost the cost of the pliers but also increases the unit's durability and longevity.
The cutters should also be made of sturdy materials like tungsten carbide. This will allow you to cut the toughest fly/backing/braided lines. Also, make sure the cutters can be swapped out so you can replace them when necessary.
Another important material is the one used for the handle. A high-quality plastic is a good option to boost the component's durability/sturdiness.
Finally, make sure the pliers' main components include corrosion/rust-resistance. It's important not only for freshwater but especially saltwater fishing. Even if your pliers have this feature, it's also important to maintain them properly. That includes washing, drying, lubricating, and storing them properly.
Color
Should form follow function when picking a pair of fishing pliers? In general, that's true. However, you'll want to spot your pliers easily in your tackle box, for example. Look for bright-colored handles so you can see and find the pliers faster.
Brand
Unlike rods and reels, fishing tools like pliers are a niche product that's manufactured by a limited number of companies. Make sure to do your homework about some of the top manufacturers on the market. This will help you to pick a company that provides quality products and good service.
Sheath/Lanyard
Fishing pliers are sometimes bundled with sheath and less often with a wrist lanyard. They'll bump up the price tag of pliers but are arguably worthwhile. A sheath helps to protect your pliers from water, dirt, salt, etc. Meanwhile, a lanyard keeps the tool within arm's reach whenever you need it.
Price
You won't have to worry about fishing pliers costing more than a Bamboo Fly Rod by Oyster ($4,600). In fact, many pliers are in the under-$20 price range. Just make sure you're still getting good value.
Since these fishing tools are quite affordable, it means you can splurge a bit to get good quality. For example, even the Professional Saltwater Fishing Pliers by Manley are in the under-$30 categories. So you won't even have to spend big bucks for solid-quality saltwater fishing pliers.
A related issue is the value the pliers deliver. Are they sturdy and durable? Are they effective gripping, crimping, and cutting? Is the handle easy to see and ergonomic? These are some of the biggest issues to take up to make sure you're getting the most bang for your buck.
Fish Hook Remover
Sometimes pliers are bundled with a dedicated fish hook remover. This provides better functionality than products that aren't bundled with this extra tool. It will likely add to the price tag but is definitely worthwhile in terms of adding value to your purchase.
Handle
There are a few key factors here starting with durability. You should also consider the handle's ergonomics. It should fit in your hand well and feel comfy even during long fishing trips. What should you look for? The handle should be lightweight, provide a natural fit, and not cause sore hands after several hours.
Another big feature for fishing pliers is spring-loaded pliers. This allows you to operate the tools with one hand. It's a plus since it frees up the other hand for holding other things like line and fish. This tends to be a standard feature so make sure to look for fishing pliers that have it.
Finally, there's the handles' color. It might not seem like a big deal, but it is when you need to spot the pliers quickly. Look for handles with bright colors like red, yellow, and light blue. The right hued handle can be the difference between winning or losing your battle with a big fish.
Saltwater-specific
Some fishing pliers offer extra protection for saltwater fishing. These units are made with non-corrosive body metals like aluminum, stainless steel, or aluminum. They also usually include high-end steel or tungsten carbide cutters.
These features provide protection from rust/corrosion caused by saltwater. It's still important to clean/maintain the units as effectively as possible in order to get the best performance. Always rinse and dry the pliers properly after each fishing session, for example.
Warranty
As you might guess it's less common to find warranties for fishing pliers than rods or reels. Still, they're sometimes offered. Some companies offer a 1-year warranty on their pliers, for example. Make sure to read the fine print, so you'll know what it does and doesn't cover.
A less common offering is a money-back guarantee. This is sometimes given for 30 days, for example. You should still do your homework before making a purchase. However, if you're not fully satisfied with the tool, you'll have the option to return it for a full refund.
Conclusion
We've just reviewed some of the top fishing pliers on the market, and we're ready to announce our pick for the top model (drumroll, please): Aluminum Fishing Pliers by Piscifun.
It starts with the pliers' material and durability. It's constructed of anodized aluminum (electrochemical process) to provide high-end corrosion/rust resistance. The jaws are titanium-coated for extra durability. The tungsten carbide cutters are also ideal for cutting even the toughest lines.
Next, there's the high functionality of the fishing pliers. The handles are spring-loaded so you can easily operate the tool with one hand. The pliers also include a sheath, lanyard, and belt loop to make the tools more mobile and functional.
The icing on the cake is the company's name, which cleverly includes the Latin word for fish. It's another reason Piscifun's unit is the best of the best pliers for catching bass, trout, or salmon.
They help make fishing fun!
---
We like to share product recommendations with you and hope you like them! Just to make you aware FishingLab may collect a small share of sales or other compensation from the links on this page.
---