Best Fishing Kayaks
Heading out into open waters is a great way to not only reach new parts of the water, but it also provides an opportunity to access more fish and connect more with nature. For fishermen, this is an exciting new way to catch fish.
There are currently many kayaks in the market right now that fishermen can utilize to head out into those open waters. Each kayak has its set of features and characteristics that afford their own unique experiences.
With so many kayaks to choose from, Fishing Lab is here to pick out the very best fishing kayaks for 2021 that fishermen can consider when they want to head out to head out to open waters.
Before that though, we'll explain several pros of using kayaks for fishing. If you have never been on a kayak, or are hesitant to use one for fishing, these benefits may be just the thing to convince you otherwise. Let's check them out.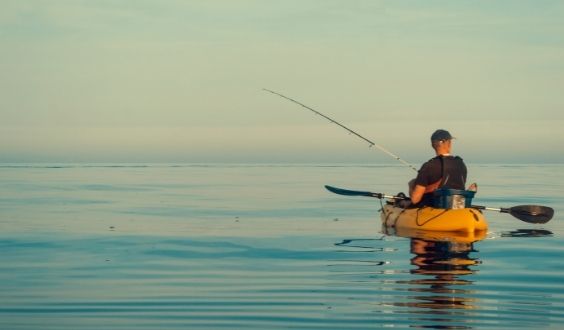 Benefits of Using Fishing Kayaks
Improved Fishing
One of the most obvious benefits of using fishing kayaks is the ability to get closer to the fish. Sailing out on a kayak is different than when an angler is on a boat.
For starters, these kayaks sit closer to the surface of the water. As such, anglers are able to see fish better as they paddle out. The ability to see this fish positively affects the accuracy of casting.
Going out on a kayak also means that anglers can easily get closer to the fish. Kayaks are quieter than boats. This means that a stealthy approach can be employed. Couple this with the ability to see the fish, and fishermen can aim at well-placed areas to get the catch.
Environment Friendly
Another benefit to using fishing kayaks is that it is more environmentally friendly than using boats. Using boats will inevitably release emissions and carbon dioxide. Furthermore, boats can also leak fuel into the waters, effectively polluting the waters and damaging the ecosystem.
With a kayak, there is no motor save the arms rowing out onto the waters. This also means that there are no emissions and pollutants.
A Spontaneous and Relaxed Approach
With a kayak, anglers require less equipment to actually start fishing. With the fishing essentials and the best kayak at the ready, fishermen can head out at any time. This makes spontaneous fishing trips all the more possible.
Then, once a fisherman is out on the water, it becomes a serene self-contained experience. The pace and direction are all controlled by the fisherman. They can paddle out as fast or slow as they want, and once the perfect spot is found, can take in the wonders of nature as the hunt for the fish begins.
Best Fishing Kayaks for 2021
Intex Explorer 2-Person Inflatable Kayak
The first kayak we'll be talking about on our best-of list is the Intex Explorer 2-Person Inflatable Kayak.
When people usually think of kayaks, the idea of price comes to mind. The popular idea is that purchasing a kayak is an expensive endeavor. This kayak proves it wrong though. This 2-Person Kayak from Intex is an affordable option that many anglers can take advantage of.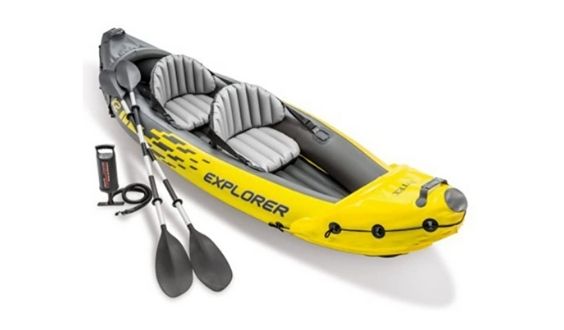 As the name suggests, the kayak can hold at least two people on board. Just like the kayak, the two seats within the kayak are inflatable. Once inflated, people will find that it is a comfortable fit, with the additional capability of adjusting the padding at the back.
Despite the PVC, it is still stable enough to grant a great experience. However, the stability does not mean that the experience will go smoothly. It still requires that both people on the kayak paddle in unison.
The downsides for this kayak are that they do not have holders for paddles, hatches, and cords. There is not enough space for a bag or box. Also, the way the kayak is built means that it is not possible to fish standing up.
Pros
Cons
Lacks holders and compartments
Can't fish standing
Intex Challenger 1-Person Inflatable Kayak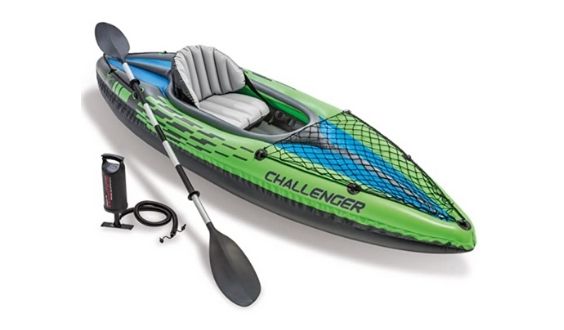 If two-person kayaks are not your thing and you are an angler who would much rather fish alone, then the Intex Challenger 1-Person Inflatable Kayak is for you.
Much like the previous kayak, this one also sports a PVC-resistant build, and this one has two separate sections.
The seating area is similarly spacious, with a padded adjustable seating back. In addition, the hallmarks of the Intex kayaks are great stability.
There is a cargo net near the bow section. However, it will not be capable of holding a large bag. In the same fashion, this kayak also does not have any holders for paddles and rods.
Despite these, the affordability, space, and stability make it a great kayak for beginners to use.
Pros
Affordable
Spacious
Great kayak for beginners
Cons
Has little storage capacity
Lacks holders and compartments
Sun Dolphin Journey 10-Foot Sit-on-top Fishing Kayak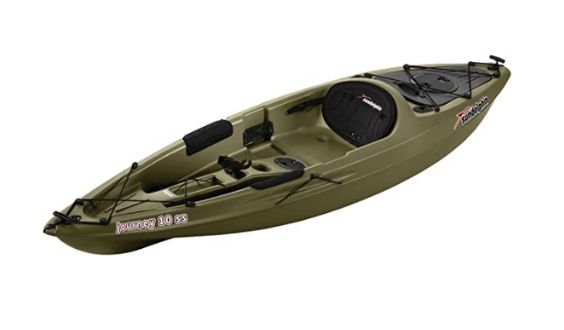 Despite its size, the tracking and control for this kayak is pretty good. It also comes in at just over 40 pounds. While it may seem heavy, this weight is actually serviceable.
Like anything, testers and reviewers have seen a couple points of improvement. For starters, the seat is not as comfortable as it may seem. It is also slow going out on the water. It should be used by anglers who aren't in a rush to get to where they want to go.
Finally, in harsher weather conditions, this kayak can take on a bit too much water and may cause discomfort for the inexperienced.
This kayak is a great choice for new anglers who are trying out kayaks for the first time. Add to that the fact that it comes in at a reasonable price, and there is no reason to not try out this kayak.
Pros
Great price
Very stable and spacious
Easy to move around
Cons
Slow
Can take in water in harsh weather conditions
Intex Excursion Pro Kayak, Professional Series Inflatable Fishing Kayak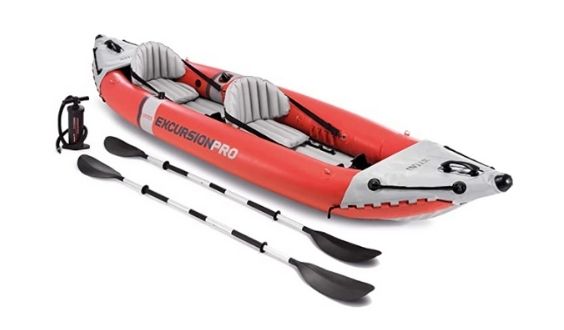 In terms of comfort, you may not find another kayak that is as comfortable as the Excursion Pro. Even after riding for long times and through long distances, you'll still be comfortable. The strain and stress so common in kayaks has been circumvented by how this kayak was engineered.
In fact, many reviewers say that you won't even believe that you are on a kayak.
Apart from comfort, durability is also another highlight of this kayak. It is made with 30 gauge vinyl material which is bolstered by polyester core lamination. Whether in the hot sun, turbulent waters, and even abrasions, you can be sure that this kayak stays intact.
Even with a lot of weight on this kayak, you can also rest assured that it will stay stable and not tip over. It can take up to 400 pounds! At this weight, anglers can still be confident that it will stay stable.
This greatly increases the amount of confidence that anglers have on the kayak. It is a big thing being able to do what you want on a kayak.
This kayak also has 2 skegs fitted underneath. These skegs allow for great maneuverability, whether on shallow waters or not. These skegs allow for easy movement in any waters.
The benefits don't stop there. It is also an easy to assemble kayak that even beginners could assemble it and put it on the water. The packaging largely helps with that, as it lays out some good and simple instructions to do so. All in all, it would take about 10 minutes to assemble.
It also has some great storage space that allows for people to store their gear and fishing essentials. These could include things like fishing bags and even various accessories.
For all the ups though, there are bound to be some downsides as well. For one, the oars don't quite live up to the quality mark that the kayak presents. In addition, some people have noted that there are some cases where the kayak deflates after a few hours.
It would pay to keep your eye on the kayak and check it every so often.
Pros
Great overall quality
Comfortable and durable
Can take on 400 pounds
Cons
Oars are not of quality
Issues of deflating after a few hours
Sevylor Big Basin 3-Person Kayak
Some people enjoy fishing in solitude; a personal connection with nature and the fish in the water. However, others also feel like fishing is better with others. The more the merrier as they say.
If you belong in the latter state of mind, why not try out the Sevylor Big Basin 3-Person Kayak?
As the name suggests, this kayak can hold up to three people, and stays strong and stable for your trip on the water. It is capable of taking on as much as 490 pounds. With a cockpit that spans 12 feet, it is also a comfortable fit for the three people.
Interestingly enough, once deflated, it comes down to just a 2×3 foot package. This means that it is easy to bring around, making it perfect for spontaneous fishing excursions.
Finally, the durability of this kayak is also top notch. You won't have to worry about it deflating or being damaged, as this kayak can withstand abrasions and impacts.
The only downside we have for this kayak is that it requires quite a number of accessories. There may be a need to get certain accessories such as air pumps, paddles, and even a repair kit.
Pros
Spacious
Can hold lots of weight
Cons
Requires a lot of accessories
Choose the Right Kayak Today
Kayaks are a great way to experience fishing. It is a calmer, environmentally friendly process that can even help improve the fishing process.
The choice for a kayak is wholly dependent on the budget and needs of the people heading out to the water. Fortunately for you, we have several of the best fishing kayaks here for you to choose from.
Choose the right one today from this list of the best fishing kayaks of 2021 and start your new fishing adventures now.
---
We like to share product recommendations with you and hope you like them! Just to make you aware FishingLab may collect a small share of sales or other compensation from the links on this page.
---