Winter (and Ice Fishing) Has Come
Thanks in large part to the snow and freezing temperatures, anglers in many locations have started to venture out into the cold expanse to enjoy ice fishing.
This is the case in the Eleven Mile Reservoir in Colorado, where people can see a smattering of people drilling holes and waiting for fish to bite under the ice.
Colorado Parks and Wildlife (CPW) reported that the Eleven Mile Reservoir began to freeze over in the second half of December. Since then, people have begun camping out on the reservoir with huts and other camp-like settlements.
The park manager, Darcy Mount, was not fazed by the amount of visitors who were coming out to enjoy the ice fishing. Mount stated that they were expecting it, especially in the reservoir where fishing is a largely enjoyed activity.
A large collection of individuals make the trip to the reservoir, all for the thrill and enjoyment of catching fish under the ice. Whether they are families bonding with nature, friends making memories, or just fishermen having fun, there is a varied group of people there. The one thing they share in common though is fishing.
In terms of the stocking, it was reported that the Mt. Shavano hatchery stocks around 200,000 trout between a couple of reservoirs. The hatchery visits every other week, with each visit bringing approximately 20,000 fish to various state parks.
Shifting over to Pennsylvania, the ice and freezing temperatures have also come to visit. This has also brought about an abundance of visitors all raring to enjoy ice fishing. Anglers have visited several Pocono lakes and gauged that the ice is fishable.
The lakes in both the Upper and Lower Promised Land State Park are reported to average at least 4 inches of snow. Several other spots have either around 2.5 inches, with some reaching 5 inches.
In this area, anglers have been reported to catch fish such as pickerel and panfish. The most popular live baits used to catch these fish are shiners and waxworms.
The main problem that anglers have been experiencing in these Pennsylvania lakes is drilling the holes. While reliance on diesel powered drillers was frequented previously, usage of these pieces of equipment has begun to die down, with anglers relying on manually drilling holes.
Another area that has reported ice fishing is several lakes in Faribault, located in Minnesota. As soon as January hit, anglers received the go signal to head out for some ice fishing. One local bait shop owner stated that most lakes would have around 12 to 15 inches of ice.
Faribault plays the central hub to several lakes where people can go to enjoy ice fishing. Lakes like the Cedar Lake, Shields Lake, and Roberds Lake offer the opportunity to catch fish like sunfish, walleyes, and northern pike.
We are sure that these are only a few areas where ice fishing has become a present and enjoyable activity. If you are planning on making a trip and enjoying some fishing on the ice though, local agencies are keen to stress the importance of gearing up comfortably and to always check the conditions.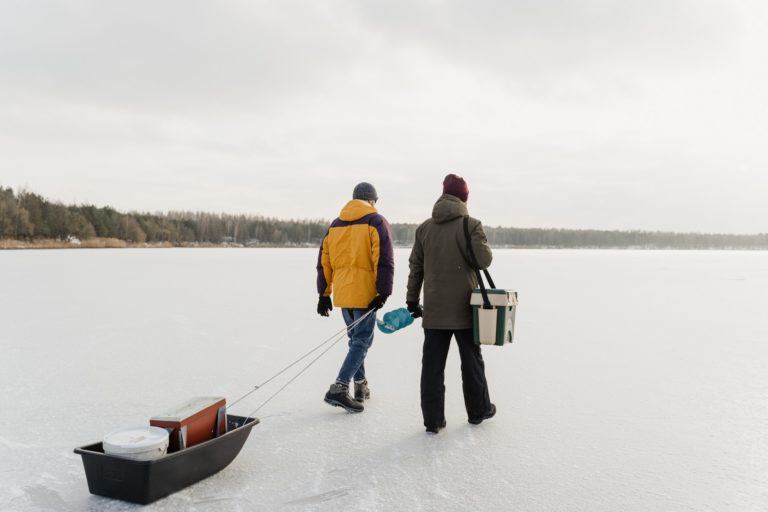 For those planning on making the trip to frozen lakes and reservoirs for some ice fishing, be sure to enjoy the environment, scenery, and peaceful ambiance with your family and friends. However, these aren't the only things that one should enjoy.
The purpose of ice fishing is to catch some fish! Bringing an ice fish finder on your trip will help you do just that. These finders will easily help anglers locate where the fish are under the ice, helping save time and ensuring that you get your catch.
There are several ice fish finders that you should consider.
First is the Garmin Striker 4 with the Portable Kit. This ice fish finder is very easy and intuitive to use. With a sensitive GPS and a built-in flasher, anglers can make several notes on their environment while also producing clear images of fish under the ice.
The Deeper PRO+ Smart Sonar Fish Finder for Ice Fishing is another great choice. This ice fish finder is very portable and fits in the palm of your hand. This makes it easy to bring it on your ice fishing trips. Upon dropping into the waters, all the information can be handily accessed via any smartphone or tablet.
Finally, we have the Lowrance HOOK2 Fish Finder. This is a very dependable ice fishing fish finder, with a choice of larger models that offer crisp imaging, better resolution, and improved sonar.
We hope that you enjoy your ice fishing experience, and that these ice fishing fish finders we have recommended will help you make the most out of your fishing trip.
---
We like to share product recommendations with you and hope you like them! Just to make you aware FishingLab may collect a small share of sales or other compensation from the links on this page.
---