Worldwide Virtual Fishing Competition For Women Starts February
A massive tournament is taking place all over the world for women, and it starts this February. The tournament is called the Presidential Women's World Virtual Fishing Challenge and is organized by the Presidential Challenge Charitable Foundation. It runs from the 1st of February to the 31st of March.
The "virtual" nature of the tournament does not mean that it is to be played on a computer. This virtual fishing tournament is a special one, in that it is open to any women anglers located anywhere in the whole world and facilitated via the CaptApp.
There is on age limit or restriction for the competitors, so it is open for any woman (or groups of women) to join.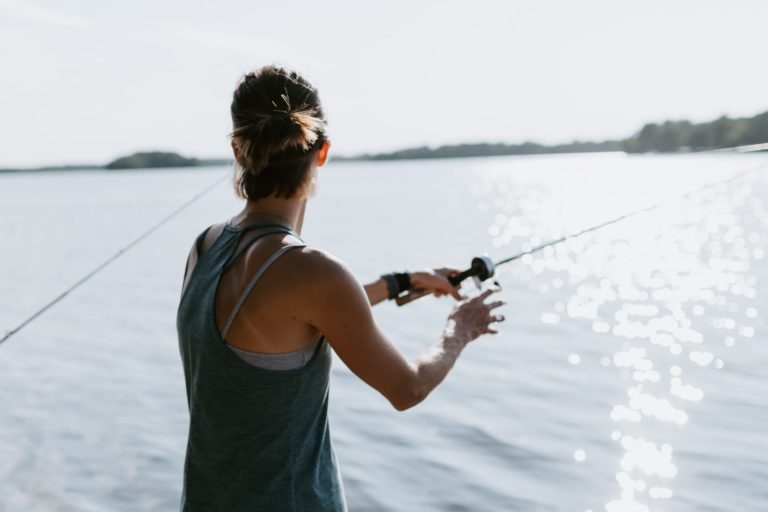 How Does The Virtual Fishing Challenge Work?
Competitors have a choice of joining alone or forming teams of up to six female members. After signing up, these teams will then fish to up to a total of six days within the February to March timeframe.
These six days are not necessarily consecutive. They can be separated according to the team's preference and schedule. In addition, anglers and angler teams need not complete the whole six days.
The accepted fishing times for competition days are between 8 a.m. to 4 p.m. in the chosen days of the two month competition. Keep in mind though that every team needs to notify the tournament 36 hours before the days that they plan on fishing.
How is the Tournament Scored and Recorded?
One very interesting feature in the competition is how everything will be scored. All scoring will be facilitated via the CaptApp which can be downloaded on any smartphone via the app stores.
The CaptApp application is what will be used when competitors catch fish. Through this app, fish can be verified via video, geo-tagged, and many other useful things. The best part is that reception is not a requirement for utilizing these useful features. This app is the lynch pin for the whole worldwide competition.
As for the scoring, there are several targeted species that are eligible for the competition. Each species has their own points associated with them. These include all billfish species, mahi-mahi, and tuna which need to be caught and released.
For the billfish, blue and black marlin are 500 points each. The white and striped marlin come in at 300 points, while the spear and sailfish come in at 100 points. Finally, the mahi-mahi and tuna come in at one point per round.
What Are the Categories?
In this tournament, there are many categories that women anglers can join. For starters, there is the monthly prize per top team and an overall prize for the top three teams.
There is also a category for the heaviest mahi-mahi, the team with the most marlin releases, the team with the most sailfish releases, the top teams for February and March (two separate categories), and so much more.
Join the Worldwide Virtual Fishing Competition Today
Joining the worldwide virtual fishing competition is very easy. All you need to do is sign up on the Presidential Challenge Women's Virtual Tournament order form.
Entry fees for the competition are $600, with proceeds going to worldwide conservation efforts, as well as several women's programs.
Gear Up for Big Points
If you are looking to rack up on some big points, then you might have your eye on the blue and black marlin worth 500 points each. Increase your chances by bringing the right gear with you, specifically the fishing rod. Consider these saltwater fishing rods for catching those marlin.
First up, we have the EatMyTackle Roller Guide Saltwater Fishing Rod. While not considered the best of the best, this saltwater fishing rod is light on the wallet and definitely gets the job done.
This rod is created for blue marlin tournaments and has a wide mouth, roller guides, and a high carbon composite blank that is good against twisting. The comfortable EVA handles means that you'll be able to hold on as long as it takes to bring those Marlin in.
Next up, we have the Fiblink Bent Butt Fishing Rod. This rod has both strength and sensitivity, both of which you'll need to reel those Marlin in. This rod can cast a fair distance and has great pulling power.
Finally we have the Ugly Stik GX2 Spinning Fishing Rod. In terms of versatility of use, the Ugly Stik GX2 rod is at the top of our list. The rod is constructed with some very sturdy materials. Having this rod break will be hard to do, unless someone really is trying to do so.
The best part of this rod is that it can be used to catch a variety of fish and stands to be a great fishing companion for many years.
We hope you join and enjoy the competition. Good luck!
---
We like to share product recommendations with you and hope you like them! Just to make you aware FishingLab may collect a small share of sales or other compensation from the links on this page.
---