Biolite Headlamp 200 Review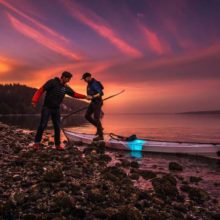 The Biolite Headlamp 200 is a headlamp designed and manufactured by the Biolite company who are based in the United States and manufacture a diverse array of outdoor equipment such as stoves, solar panels and other types of power generators and lighting which is made with the camper in mind with very useful characteristics and features such as being lightweight, durable so it doesn't break even when you drop it and also waterproof as it without a doubt outside your equipment will come in contact with water sooner or later.
In this article, we are going to be reviewing all the key features of the Biolite Headlamp 200 and giving you the pros and cons to decide if this is the product that fits your requirements.
Lightweight
The Biolite Headlamp 200 is described by its manufacturer as 'ultra-lightweight', which is quite a fair description as the entire headlamp weighs just 50 grams meaning that it will not be hard to carry it around with you in your travel bags as well as walk with it strapped on your head for hours without the decide contributing to you become more fatigued.
Despite being very light, this device uses a high-quality strap that will make sure that the lamp is comfortably placed around your forehead without any chance of it falling even in the strongest winds or most physically demanding activities.
Light Modes
If you are going to be camping or generally being outside it is very likely that you will be doing so at times during the night, therefore it is essential to have a headlamp that will have different night mode lights for different situations and stages of the night. For example, when the sun is setting you may be able to get away with brighter modes of light but once it gets really dark you may blind the people around you with such as bright light.
Thankfully on the Biolite Headlamp 200 you have the option of switching to other modes such as strobes which the manufacturer says is good for activities such as biking and also a dimmed red light which is good for reading and being around other people where you can still have a good light source but not blind them when you look at them.
Anti-Moisture Protection
There are many ways that moisture can get onto your headlamp with the most common ways being from rain, sweat, humidity and other water sources from the environment you are in such as lakes, rivers and even water from a cliff that you may be climbing. The Biolite Headlamp 200's strap that goes around your forehead is made from what is known as a 'smart fabric' which is a man-made blend of polyester that retains just 4% of moisture it comes in contact with which is considerably less than the 7% that clothing made from cotton blends usually absorbs. This greatly reduces the chances of the headlamp sliding off your head or water dripping down from it into your eyes.
Simple User Interface
There is also a simple user interface made up of physical buttons that are specially made to be compatible with the majority of gloves out there according to the FAQ section of the manufacturer. Additionally, the design is purposely simple with very few buttons so you can operate your headlamp without having to look which can be extremely useful in multiple situations where you only have one hand free so you cannot undo the strap additionally it saves you a lot of time.
Anti-Bounce Design
The way that the actual lamp is placed inside the compartment connected to the strap makes sure that unlike a lot of other competing headlamps out there with the Biolite Headlamp 200 you do not have to worry about your lamp bouncing around which can be very annoying as the lamp is not able to do its job of providing you with a light source in front of you. Moreover, this feature prolongs the life of your headlamp as it stops unnecessary tearing and damage to the strap around the lamp that holds everything together in mode.
Lantern Mode
Apart from the ability of strapping the Biolite Headlamp to your forehead, you can also turn into a lantern by putting the headlamp into a transparent bag and then hanging up. You also have the option of purchasing another product that is also manufactured by Biolite which is called the 'Light Diffusing Stuffsack' that does the same job as a transparent bag but makes your life easier.
Aesthetic Customization Options
At the end of the day, this headlamp by Biolite is a type of clothing accessory, and with this product, you have the selection of four colors for the strap that makes up the majority of the product. Currently, the colors you can choose from are Ocean Teal, Moss Green, Midnight Grey, and Ember Red with none of the color choices coming at an extra cost.
HolyFit Guarantee
This Biolite Headlamp comes with what is known as the 'HolyFit Guarantee', where you can purchase any model of headlamps from the Biolite website and use it for up to 30 days with the option of returning the product if you are not 100% happy with the ability to still get a full refund. This is a good sign as it shows that the company behind this product is confident in its quality and also the customers will be satisfied with the product.
USB Charging Cable
One of the big differences of the Biolite Headlamp 200 and the predecessor Biolite headlamps is that now rather than having to use small alkaline batteries you can simply charge the lamp with a USB charging cable. There are a couple of benefits to this, the first is that the battery can be easily recharged and you no longer have to go out of your way to buy replacement batteries. Furthermore, it is much faster as you simply insert the USB cable in the charging port in the lamp and you leave it to charge rather than having to open up the external case and then trying to correctly place the batteries.
Pros
Very lightweight which allows the device to do its job without interfering with the activities you are taking part in.
Multiple light modes to choose from to suit all your preferences.
A well-made strap design that allows the Biolite Headlamp 200 to stay on your head when running and climbing for example.
It can be transformed from a headlamp to a lantern with ease and no need to buy extra features for this if you don't want to.
A durable battery that can be very easily charged using a simple USB cable.
Cons
Some users report that the switches can be at times hard to use without taking the headlamp of your forehead.
Getting used to using this headlamp can be challenging at first.
A lot cheaper alternatives out there with fewer features.
Features Highlighted
Multiple Strap Colors Available
Many light modes to choose from
Ability to transform into a lantern
Micro USB Charging with a free USB cable included
Water resistance rating of IPX4
Brightness Memory that saves your preferred settings
Simple user interface
Anti-bounce design
Total weight of 50 grams
30 Day Money Back Guarantee (HolyFit Guarantee)
FAQ
How Long Is the Beam Distance of the Biolite Headlamp 200?
According to research done by the manufacturer of the Biolite Headlamp 200, the flood beam is 8 meters in length and then the spot distance is 50 meters in the brightest light settings. This provides you with a massive view of the area in front of you, which is more than enough considering that 50 meters are the length of half a football pitch.
Can Rechargeable Batteries Be Used With the Biolite Headlamp 200?
No rechargeable batteries cannot be used with the Biolite Headlamp 200 as the only way to charge this particular model of the Biolite Headlamp is using a USB charging cable which is affordable costing you a few dollars max excluding shipping. There is no way to connect rechargeable batteries to the Biolite Headlamp without taking apart the entire lamp and doing some kind of complicated rewiring which will damage the device and void your warranty.
Is the Biolite Headlamp 200 Suitable for Running?
Yes, one of the activities that the Biolite Headlamp is recommended for is running as it is very lightweight so it will not slow you down, the design of the strap means that the lamp itself will not bobble around and also the lamp is water-resistant so it will not get damaged from limited exposure to water from rain and moisture for example.
How Long Does It Take to Fully Charge the Biolite Headlamp 200?
According to the official Biolite website, it states that on average it will take two and a half hours for the Biolite Headlamp to fully charged. This, of course, varies on the length of the USB cable that you use with the shorter the cable the faster the charging cable as there is less wire for the electricity to travel through.
Can the Biolite Headlamp 200 Be Used by Children?
Yes, the Biolite Headlamp 200 can be used by children without any problems as it is very lightweight at just 50 grams so they will be able to wear it without any issues and also the strap can be easily adjusted by tightening it up in order to fit on smaller heads.
Conclusion
To conclude, the Bioliate Headlamp 200 is an advanced lighting source for people that like to be outdoors doing both physical and non-physical activities thanks to specially designed features such as how lightweight the headlamp is, anti-bounce features that make sure that the light is always shining straightforward as well as the variety of light modes that are suitable for an array of different activities such as climbing, running, BMX riding and just sitting together at night thanks to the lantern mode.
On the other hand, there are some major disadvantages that you need to be aware of before you make a purchase such as that the buttons used to turn on the lamp and also interchange between the different modes can be hard to use if you are wearing gloves or have not been using the headlamp for a long time. It is also much pricier than most of the other headlamps on the market so if you are going to purchase it you need to be sure that you have a use for it and that you are going to be using it often.
---
We like to share product recommendations with you and hope you like them! Just to make you aware FishingLab may collect a small share of sales or other compensation from the links on this page.
---