Deeper Smart Sonar CHIRP Review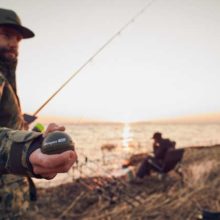 Fishing is a popular hobby all around the world with around 50 million people in the United States partaking in fishing at least once a year, it is a hobby that can at times be very time consuming especially if you do not have a lot of experience in choosing the right spot to fish or are simply not lucky that day. 
However, there is a portable gadget known as smart fishfinders which either consist of a wireless floatable scanner that can be connected using Bluetooth or Wifi to your mobile phone where you can view all the data without any problems. In this Deeper CHIRP Sonar review we will tell you everything that you need to know about this fishing tool.

Other types of models have a floating sensor device while having a separate screen to view the footage and data that the sensor is picking up, with some of those devices being wired which limits their uses and makes them more susceptible to breaking.

There are many different types of fish finders available for sale that range from the more affordable high-quality finders that use sonar technology and then you have the more expensive versions that can cost thousands of dollars due to containing a camera that allows you to look around underwater for any fish.

The products are able to track all kinds of fish and organisms of size in the water within the specified radius, the Deeper Sonar company also has specific sensors for different forms of fishing such as carp fishing, ice fishing, boat fishing and kayak fishing that each provide a suitable experience if for more specialized forms of fishing.
Deeper Smart Sonar Chirp

Deeper Smart Sonar Chirp is a revolutionary product that is the world's best Wifi enabled fish finder that uses the trademarked 'Chirp' technology that consists of a total of three different sonar frequencies that guarantee the clear and fast detection of any fish in the location that you have deployed this smart fish finder.
Portability
One of the first things that you will notice about this fisherman's gadget is that it is super portable, it does not come with any wires that need to be connected when casting out the device although you do have to occasionally charge the gadget using a generic USB charger.

The entire device weighs just 90 grams and is 6.35 centimeters by 10 centimeters in size allowing you to easily take it with you anywhere you are going to fish without having to worry about it taking up space or weighing you down. Furthermore, this device is connected to your mobile phone through Wifi so you do not have to bring with you an additional screen to view the data that is being fed from the sonar fish finder.
Battery & Charging
The Deeper Smart Sonar Chirp contains a Lithium Polymer 3.7V Rechargeable battery that is designed with fast charging in mind, with the battery taking only 45 minutes to be 75% charged and only 75 minutes to be 100% charged meaning that even if you happen to be running late you will be able to quickly charge your smart fishfinder to close to full battery life while you are getting ready.
Versatility
This smart fish finder by the Deeper Sonar company has been designed with versatility in mind with the ability to be useful in a total of four diverse fishing environments. The first of those environments are people who like to shore fish, this type of fishing is complemented thanks to the sonar technology that allows you to identify the underwater environment that you are going to be fishing in with ease.

Next, you have kayak fishing which this smart fish finder is ideal for as it features a flexible mount where you can attach your fishing line to make sure that the gadget doesn't float off or get washed away by strong rapids.

Additionally thanks to the strong frequency that this device emits it is great for boat fishing where you expect to be moving back and forth slowly, thankfully thanks to this feature you are able to get correct and high-quality readings every time.

Finally, thanks to not having a wire attached to it, the Deeper Smart Sonar Chirp is great for ice fishing as you can easily insert it in the holes in the ice that you have made. Additionally, this tech fishing tool is created in a way that makes sure that it does not interfere with your fishing as it does not emit strong sonar rays that can be noticed by the fish in the water and give them a reason to run away.
Tracking Ability
This device is able to reduce clutter and sonar noise in shallow depths from 15 centimeters from the surface that it is partially submerged in, this is coupled by the three different sonar frequencies that are sent out by this tech gadget with every single frequency covering different angles ensuring that the entire surrounding area is covered.

Additionally, you can send out your fish finder far away from you and you will still be able to connect to it up to a distance of 100 meters.
Durable
Even though this Deeper fish tracker is small and light, it is also extremely durable as it can work in water temperatures ranging from 40 degrees to -20 degrees Celsius which covers every type of body of water that is habitable by fish.
Pros:
Easy to use which ensures that you will be able to use it right away and also minimizes the chances of you making costly mistakes.
An adaptable device that is great for multiple types of fishing so you don't have to go out and buy multiple fish finders.
It comes with a generous warranty and money-back guarantee from the Deeper company.
Very lightweight which makes it great to take with you anywhere you are going.
The high-quality battery included in this product allows you to recharge it continuously for years to come. 
Cons:
Currently available in only one color which is 'military green', this is not a big problem but it can turn off some customers looking for more customization options.
There are quite a few cheaper alternatives out there including older models of the Deeper Smart Sonar.
Buyers Guide
Smart fish finders are very easy to figure out how to use, however, there is still a bit of a learning curve that we are going to cover in further detail below in the buyer's guide of the Deeper Smart Sonar Chirp.
First, you need to remember that this is a tech gadget so it requires electricity, therefore make sure to use the USB wire that is included with this device to charge it before you are going out to fish.

It is also important to keep in mind that if you decide to charge your device a long time in advance that the battery will naturally lose the energy that it has stored so instead it is better to charge it a max of a few days up to a week in advance although you can just charge it before you are going as it only takes an estimated 75 minutes for a full charge.


Secondly, make sure to have Wifi available to you when you are going fishing with this device so that you can connect it to your phone to view the data that the device has collected. If you are going out fishing you will most likely need to make sure that someone has access to a type of wireless communication such as 4G or 5G for example.


The way that this fishing tech device works is that you cast it into the water in the area that you are interested in surveying for its potential as a good place to throw your fishing line.

After the Deeper Smart Sonar Chirp has been in the water for a few minutes you can retrieve it and connect it to a mobile device or even a laptop and then analyze the data that it has collected which will include the fish tracked in that particular location as well as any other parts of the environment such as the depth and temperature of the water.


Moreover, it is important to remember to bring the attachment bolts with you if going out in bodies of water with stronger currents such as when kayak or boat fishing.



Finally, it is recommended that you read through the 'quick guide' that is included when you buy this product that will include a lot more advice and also tips on how to use your product in a way that will ensure that it lasts for as long as possible.
Add Ons
Additional gadgets to the Deeper Chirp Sonar such as the smartphone case are very useful when wishing to look at the graphs while casting out the sonar. The case comes with protection from the elements such as rain, cold, heat and sun to make it easier to read during these conditions. It also comes with a handy strap which you can attach to your wrist for easy portability and ability to read the graphs.
The case is also able to float so if it were to fall in the water it will stay afloat able for you to swing by and grab it. 
It has enough space to allow for a phone charging pack so you can keep your battery levels high while you use the app which is another cool feature of this case.
It's not a must buy but is sure handy when using the Deeper CHIRP.
Warranties and Terms and Conditions
There is a 30-day money-back guarantee when buying this product that allows you to return and get a full refund if you are unhappy with the product for whatever reasons.

Also, there is a 5-year limited warranty included with this product that makes you entitled to receive hardware support and repairs if your situation meets the manufacturer's terms and conditions.
Summary
To summarize, if you are looking to up your fishing experience this is a very good investment as it will save you a lot of time and energy while allowing you to focus on enjoying yourself and spending time with your loved ones. This device comes with countless features such as multiple sonar frequencies, an intuitive app, portability just a few of the features.

Despite having so many different useful features, this fishing tool remains extremely simple and easy to use while also coming with a great money-back guarantee and a return policy. Furthermore, it is a very adaptable gadget that can be used in the majority of fishing scenarios and in all types of climates.
Portability wise this has our top rankings which you will see across many fishing blogs this year 🙂
---
We like to share product recommendations with you and hope you like them! Just to make you aware FishingLab may collect a small share of sales or other compensation from the links on this page.
---