Top Fishing Destination in Australia You Should Visit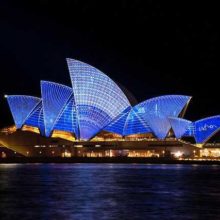 Australia is not only the land of surfers, koalas and kangaroos, but also a finishing paradise. Unwinding on a lazy Sunday afternoon is best spent kayaking in some of the most beautiful Australian rivers plentiful of fish. What is great about fishing is that you can enjoy it alone or with your loved ones; as long as your catch rate is high, none will want to spoil the good energy you are bringing to the table. After thorough research, we have come up with the top three fishing destinations that we believe would impress any recreational or a professional fisherman.
Exmouth in Western Australia at the Unesco Ningaloo Coast World Heritage
The Exmouth Gulf is right next to the open ocean, where an abundant rich marine life resides. Australian fishermen claim that the Ningaloo Coast is number one when it comes to versatile fishing opportunities, ranging from barracuda to giant trevally. You can try out fly fishing and flats, as well as many beach sports that can be a fun weekend activity for the entire family. What is super exciting about the Exmouth Reef is that you never know when will you come across unusual fish species patrolling the waters. It is impossible not to fall in love with the blue glimmering waters of the lagoon, where some of the rarest fish in the world reside (such as the entire cast of Australia's six billfish species).
Arthur's Lake in the Central Highlands of Tasmania
There are about three thousand lakes in the Central Highlands most of which are well known for trout fishing. While you are free to visit as many lakes in the district as you want to, we recommend you make a stopover at Arthur's Lake. The fishing season begins anytime the anglers decide to set on a search, regardless of the weather. What you will find in this man-made reservoir, is the most popular trout fishery. Visitors who come to fish usually opt for purpose-built kayaks instead of fishing boats. Fishing kayaks they use in Australia enable anglers to reach more narrow passages that hold schools of fish. If you too prefer paddling out on the water, then you will enjoy sailing more stably and quietly.
Queensland Subtropical Harvey Bay
Something to love about the Harvey Bay is the fact that you will never go home empty-handed. This place is an absolute heaven for anglers who like to fish in deep waters, as well as mere beginners who are still learning the basics. Snappers, parrotfish, and setups are probably one of the most famous fish you can catch in these waters. The Harvey Bay is the fishermen's favorite meetup spot, offering everything from hiring boats to professional advice on finding the best fishing spots in the bay. Don't get surprised if you catch something out-of-ordinary since the bay is bordered with a gorgeous Queensland island of Fraser, well known for its enormous jewfish and sharks.
Australia is home to more than four thousand water species, most of which tend to grow bigger and taller in this part of the world. Whether you are fishing in crystal-clear waters of the Exmouth Bay or peacefully kayaking in Tasmania, you will love the lively atmosphere in the marine world. When fishing in Australia you are not only bringing fresh dinner to the table, you are also soaking in the natural beauty of the island.