Types of Fishing Reels – Exploring the Differences and Which One to Choose!? (Pictures, Spinning, Baitcasting, Mechanism)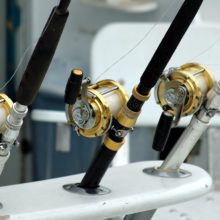 Are you ready to hang up a real or virtual "gone fishing" sign? If so then you'll need to secure the right gear including fishing rods. You'll also need to know the main types of fishing reels. The history of fishing reels dates back to Ancient China during the 4th century.  
We'll be taking up the features, pros, and cons of each type, key features of reels, and some examples of the different types of fishing reels on the market. Let's get started.
Here are the Main Types of Fishing Reels
While you can find tons of fishing reels at online retailers like Amazon, it's critical to know the basic types. They include:
Spincast Reel
The spincast rod/reel is one of the most popular/easiest for beginner/young fishers. It's also the cheapest type, so it's a good option if you're on a shoestring budget.
The spincast reel is located above the rod, and the enclosed reel spool has a nose cone cover. This prevents snarling/backlash that's related to baitcasting reels. This, in turn, provides a better experience and improved lube retention.
Casting is very easy. The angler presses/holds down the button located at the back of the reel. The line pick-up pin is disengaged. After casting the line forward, the line spins off the spool. Turning the crank handle engages the pickup pin and retrieves the fishing line onto the spool.
Tips
The trigger release is located on back or front of reel depending the on reel type
Use this reel for beginner/young fishers
Tie the knot when done threading, so the line doesn't fall out
Don't let the entire line cast
Control the line's motion by turning the reel's handle
Spinning Reel
A big ongoing debate is whether spinning or baitcaster reels are better. You cast a spinning reel by flipping up a metal ball wire that releases the line so it can be cast.
After you flip down the metal wire, the line is locked in place. One issue to watch out for is trigger-happy bail found on some spinning reels.
This kind of reel spins while the line is retrieved. As you might guess it's how this reel got its name. The setup of this type of reel is basic and easy to use/learn.
If you're a beginner angler, then the spinning reel is a good option vs spincast reel. The price can also be about the same depending on the kind you buy.
Tips
Pick reels with high gear ratios
Focus first on accuracy and keep eyes on the target
For top distance let bait hang around 18 inches from the tip of the rod when casting out
Baitcasting Reel
Anglers often have a misconception that baitcast reels often result in bird's nest of line. There's also the belief that it's tough to learn how to use this type of reel.
In fact, baitcasting reels can give anglers the ability to use particular techniques/presentations and a heavier fishing line. You can learn how to use these reels by doing some practice.  These are also a good option for replacing spinning reels in many situations.
A baitcaster is a reel with a revolving spool. It sits atop a casting rod w/ trigger handle. This is the exact opposite of spinning reels that sit under the spinning rod while the line guides face down.
Casting reels are available in left/right-handed models. It's important to pick a reel with a good fit since handles can't be swapped out.
This is a good option if you want accurate casting. You use the thumb to control the spool. Baitcasting reels have a higher gear ratio than spinning models. This is a plus for high-speed functions like walking spinnerbait, burning crankbaits, or buzzing buzz bait over the surface. Baitcaster reels are also good for power fishing methods w/ heavy line like flipping/pitching, and slow-rolling spinnerbaits.
Baitcast reels are also good with fluorocarbon, monofilament, and braid lines. A braid-filled baitcaster reel is good for plastic frogs, buzz baits, and topwater chuggers.
In some cases, you should consider a spinning reel like the spring when finesse tactics are helpful for catching bass in shallow water. Spinning reels are also good during windy winter days when you want to cast suspending stickbaits.
That's because baitcasters usually backlash a lot when throwing lightweight plugs.  You can use various finesse tactics with spinning tackle.
Tips
Choose the right line since the reel is for large fishes
Pick thick, durable, and a long-lasting line like monofilament
Prevent backlash by keeping spool half-filled at most
Engage 2+ brakes before casting
Pick rods that bend easily and heavy baits
Work on holding the spool properly before using a baitcasting reel
Trolling Reel
The term "trolling" refers to a fishing style and kind of reel. When trolling fish make sure to drag lines w/ hook-rigged lures to attract fish.
In several ways trolling reels are like baitcasting reels. On both types, the reels are mounted above the fishing rod, and this is the biggest similarity.
Meanwhile, the spool line capacity is higher for trolling reels than baitcasting reels.  This helps to deal with heavier fishing lines that are often used when doing trolling fishing.
Trolling reels have 3 basic features. They include star drag, release lever, and line out alarm. Trolling reels can also accommodate several fishing lines. Many fishing lines can be used based on the target fish.
The trolling method is a productive method. That's because big amounts of water can be covered and the angler can use multiple lures.
Tips
Drown the lure deep in water
Brakes are important, so adjust them
Key Features when Buying Fishing Reel
When picking any type of fishing reel here are some of the most important factors to take up:
Material/Weight
This will mostly be related to the material used although there are also other factors. Options like graphite are ultra-light. If you don't want to sacrifice much durability for weight, then go with options like aluminum. It will also help to save money.
Price
Most anglers don't have an unlimited budget when picking gear. That includes reels. If you don't want to plunk down $1000 for a Daiwa Exist Magesealed reel that's OK. In fact, you can find several quality reels in the under-$1000 price range.
Make sure to set a budget. Then try to stick with it since you'll have to buy other items like a fishing rod, line, lures, etc.
Brand
When picking a fishing reel, you should arguably so with established brands like Shimano and KastKing. These are better options than generic/off brands. Those brands offer cheaper units, but you'll also be more likely to deal with problems like low quality and bad service.
Appearance
When picking a new fishing reel, form should follow function. That said, you should still consider the look and feel of units. You probably won't want to use reels that look antique or clunky.
There are several factors that affect the reel's appearance. They include the material, style, and color. Factors like the finish will not only affect how the reel looks but also how it performs.    
Smoothness
This is related to different factors including the ball bearings and anti-reverse bearing. The ball bearing is small yet critical components for a reel's overall smoothness. So make sure not to overlook them.
Line Capacity
This is especially important for applications like deep-sea fishing. In those situations, you'll want fishing reels with high line capacities.
How much capacity do you need? Think about the types of fishing you plan to do whether it's inshore or offshore. It's always best to have a line capacity that's a bit higher than you think you'll need. This will help to avoid problems when you're trying to land a big catch in the middle of a sea or ocean.
Handles
Here's another key feature to consider. It starts with the handles' material, and it should be sturdy and made of durable materials. This will help to extend the lifespan of the reel.
Another important issue is the handles' ergonomics. They should feel comfortable whenever you're trying to reel in a fish or just waiting for a bite. This is especially important during long fishing sessions.
Warranty
This is less likely for budget reels, but you can still find manufacturer's warranties offered. Always read the fine print to learn what they do and don't cover.
Gear Ratios
This issue is a technical one but also one you should definitely take up. What's it all about? A reel's gear ratio is measured by the number of times a spool turns for every handle turn.
For example, let's say a reel's gear ratio is 6:1. Each time the handle is turned the spool inside turns 6 times. So a reel with a lower gear ratio turns slower than one with a higher ratio.
Type
The main kinds of fishing reels are spinning, spincast, baitcast, and trolling. Which one is right for you? Consider factors like your fishing experience, targets, and budget.
Each of these reel types has different features, pros, and cons. Make sure to weigh them before picking a new reel. Remember the latest and greatest reel might be trending online but might not be the best choice for your particular situation.
Inches Per Turn (IPT)
A reel's IPT is important to consider. It measures the amount of line that's retrieved into a reel with one handle turn. Various factors can affect IPT. That includes spool size/depth/width. In other words, a reel with a high gear ratio doesn't reel in more line/turn 100% of the time. Other factors are the spool/line size.
Drag
The drag on a fishing reel is a pair of plates inside the reel. The reel spins backwards if the fish pulls on the fishing line. The drag should definitely be set before you start angling since it will be easier when you're fighting a fish.
When picking a fishing reel, you should consider the drag system. When picking a reel, make sure the drag system offers outstanding stopping power to give you the best chance when trying to land a big catch.
Conclusion
So we have gone through the different types of fishing reels there are and what their benefits and drawbacks may be. This should help you in deciding which type of fishing reel you will need for your adventures but this is only the first step.
Once you know the type you need to then figure out which is best in that type as per the other factors outlined above. You can check out my reviews on The 7 Best Crankbait Reel 2018 and also Best Penn Spinning Reel to help you decide after this point and look out for more reviews to come 🙂
---
We like to share product recommendations with you and hope you like them! Just to make you aware FishingLab may collect a small share of sales or other compensation from the links on this page.
---