What to look for in a travel rod?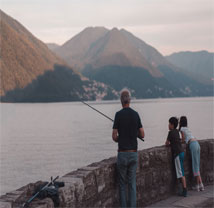 Going on adventures is how we keep going, and it's a very fulfilling thing to do where you get to enjoy yourself and test your limits. Whether you're hiking a trail along the deserts of Sinai or climbing a mountain in the Himalayas, you learn a lot about yourself during these times, and you get to see another side of the world. While each adventure is unique, one thing you need to try out whenever possible is fishing. It's probably the ultimate relaxing activity and a way to ensure some peace of mind on your travels amid all the action. You don't even have to get any fish; the activity in itself is relaxing and can help take your mind off things. Since you can't pack your typical kit, you need to get a travel rod with you to make things easier on the go. Here's what you should look for in one.
Design
The purpose of the travel fishing rod is simple: provide a convenient option for fishing aficionados on the go, without the need to pack heavy baggage or large kits. This is why the first thing you should look for in a travel rod is the design. Whether you're going on a hiking trip with friends, hoping to steal some time fishing, or camping in a forest with lakes, the design makes a lot of difference in how your entire experience will go and how heavy you'll pack. A well designed travel rod will be easily folded and tucked away in any small space. So, you're looking for one that has an easy, high quality folding mechanism that will allow you to pack it quite effortlessly.
Some rods come in 3 or 4 pieces which you'll need to put together and dismantle for folding. You need to consider that option especially with heavier travel rods what are used in saltwater, because those weigh much differently and need to be smoothly packed. You have other rods which are collapsible, if you don't really want to dismantle the thing every time you need to store it. Those collapse into a smaller size that will allow you to put it away in smaller storage spaces.
A match for your style
If you're not an expert on fishing, you may be surprised to learn that there are different kinds out there and each needs a different approach when it comes to fishing rods. They're usually designed for a specific method, which you can tell by looking at the type of reel that comes with it that would indicate a certain fishing method –– they also come in different weights. In any case, you'll need to read a guide to ultralight fishing rods to learn about the different kinds and their weights. For instance, you have spinning rods, which are probably the most common kind used by most. You'll find a spinning reel underneath the rod which is why this one works for lure casting and bait fishing. Spinning rods also work with different sizes of fish, mostly small to medium sized, and you can use them for boat or kayak fishing.
Casting rods on the other hand are used for inshore fishing, usually in lakes or rivers, and they work with smaller fish. Each one has a casting reel on top of the rod, and it has a button that allows you to control the length of the line. Beginners should consider this option because it's easy to use and quite affordable.
Fly rods are a bit different. They're mostly found on fly fishing, and they're used with fly rods. The thing about this kind of fishing is the fact that it requires a completely different technique from other casting kinds. It needs a certain skill and finesse to master, and it's definitely one of the rather complicated fishing methods.
These are some different types of fishing and the rods that go with them. Before you travel, you need to find a rod that works with your specific approach and is portable at the same time.
Rod mechanism
Now that you've found a design that matches your style, it's time to look into the rod action. In simple terms, a fishing rod is a pole with a line going from the reel through the runners to the tip and you use it to catch fish. You need to consider the rod movement, which is how well it flexes and how the rod goes back to its position afterwards. A lot of factors play into this, like rod's taper, material, length, and others. According to what kind of fishing you're practicing, you should look for the best rod action that suits that method. The weight of the fish you're after will also affect the rod action because long, light rods work for smaller fish and casting unlike short ones that work best with the bigger species but won't do much for casting.
Materials
Any product you get is as good as the materials it's made from, and a travel fishing rod is no different. Most newer models are made of composite materials, carbon or fiberglass. Each has its own pros and cons, and some might not work for the kind of fishing you're planning on doing while travelling. So, look up each kind and read about its pros and cons and find out if it suits the method you want to use.
​

Budget
At the end of the day, you want your travel rod to also be rather affordable so you don't end up spending a lot of money and not using it all the time. Each fishing method has a different rod that works with it, and those also vary in material and quality. Try to find one that suits your needs and is within your budget.
As you may have noticed, there's more to fishing than just picking up your kit and going to the nearest body of water, especially if you plan on doing it while travelling. This is why you should take the time to read about the different methods and which rod works when, and then start learning if there is a travel-friendly option.
---
We like to share product recommendations with you and hope you like them! Just to make you aware FishingLab may collect a small share of sales or other compensation from the links on this page.
---