Big Bass Season Has Arrived
An angler from Tulsa was pleasantly surprised when he caught a largemouth bass weighing in at 11 pounds and 11 ounces.
It helped signify that big bass season has arrived.
The head of fisheries in the area, Josh Johnston, stated that the surprise emanated across many people in the community. Due to this, many people called him about the large bass to come out of Lake Bixhoma.
Despite the calls, Johnston himself was not too surprised. Historically, Bixhoma had been producing large trophy catches for several years now. Johnston knew that this was a common occurrence that many anglers keep close to their chest.
Yet under this common occurrence lay another reason as to the propagation of the large bass. This reason tracks all the way back to Florida.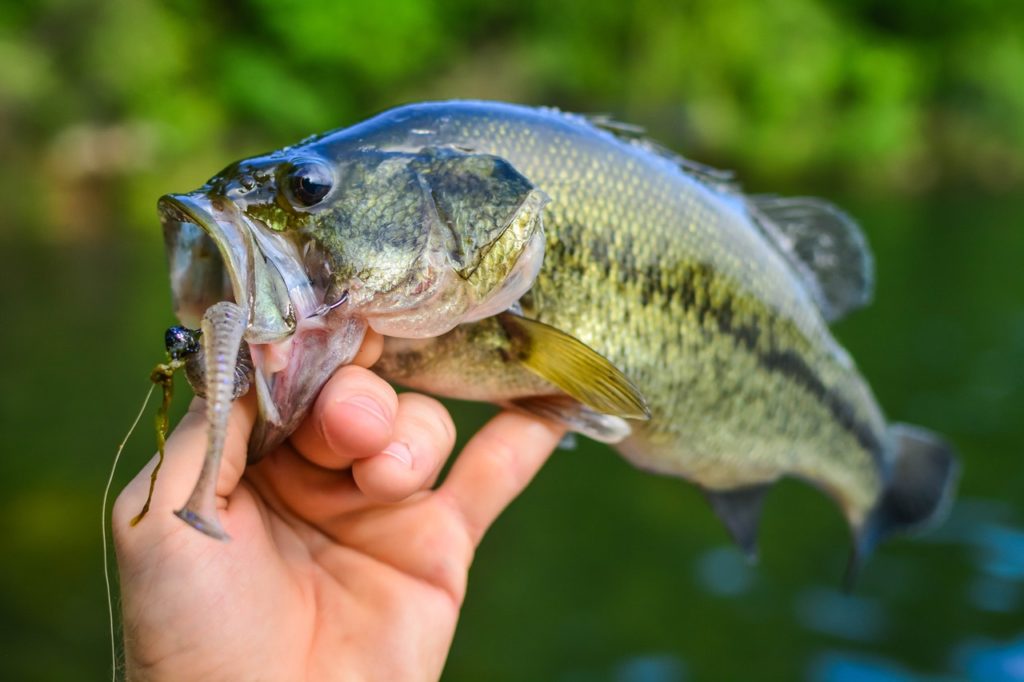 Florida's Fingerprints
The propagation of largemouth bass in certain areas and lakes has Florida's fingerprints all over it.
The bass cultivated in Florida are actually bigger in size and faster in speed. These Florida bass are raised by the Wildlife Department at a place called the Durant Fish Hatchery.
Many of the fish raised here are spread out to various lakes in various states.
For the bass raised in Florida however, they have grown accustomed to warm weathers. They have also adapted to longer growing seasons. This is why many lakes in southern Oklahoma, get stocked with this type of bass.
Despite this, it poses an interesting conundrum as to how anglers fishing at Lake Bixhoma caught the Florida-gene largemouth bass like they did.
A Bass Mystery at Bixhoma
Historically, Florida's Wildlife Department has not seen much success in northeastern lakes in Oklahoma. Early in the 80s and 90s, they had tried to stock Grand Lake with their bass, but did not find much success.
Around that time, the people from Florida did a genetic sampling in certain nearby lakes such as Sardis and Grand Lake.
The former showed that a quarter of their bass had Florida genes, while the latter showed none at all. This shows that the bass from Florida were never able to crossed with the native bass in the area.
Despite that, they were able to make their way to Lake Bixhoma. Johnston states that Bixhoma is very deep, resulting in a sort of thermal home that the bass like.
He adds though that there are many other different factors that go into the increased chances of catching these large bass..
For instance, Johnston says that new technologies have been contributing greatly to both seeing and catching these large bass. Chief among these technologies is LiveScope.
LiveScope is an improved underwater sonar. While the range is relatively shorter (up to 200 feet), the image it produces is crisp and clear, allowing for anglers to locate and catch bass.
Bass Season Has Come
Cycling back to the Florida-gene bass and their populations in many lakes, the wildlife officials raising these fish have stated that they will likely try and infuse more fish like these into Grand Lake, as well as many other lakes, again.
While waiting though, if catching big bass sounds enjoyable, it is time to strike while the iron is hot. These big bass are out and about during February and March.
LiveScope Gear
LiveScope is a relatively new sonar technology that has taken the industry by storm. This feature from Garmin allows anglers to not only see underwater in great detail, but also in real time.
The standard Garmin Panoptix LiveScope Scanning Sonar System allows anglers to see around the boat for a few feet, and up to 200 feet under. It is easily adjustable for the needs of the angler.
Installing it is very easy, with a simple plug and play style to the Garmin Marine network connector. With that said though, anglers need to know that the LiveScope system is not compatible with all Garmin fish finders.
First on our list is the Garmin ECHOMAP UHD 93sv. You can feel the quality of this fish finder as soon as you touch it. The large 9 inch screen allows for clear images and intricate details, making catching those elusive bass easy.
This model also has three types sonar so that all your bases are covered. Plus its intuitive interface means no more fighting with buttons or learning complicated functions by mistake.
Another good option to pair with the LiveSonar is the Garmin ECHOMAP UHD 73cv. With a 7" screen and built-in GPS, the unit is fairly versatile. It also has quick contour mode that allows you to edit your map data with ease.
You can access 18 000 lakes in America as well as other charts available on Google Maps prior installing this app onto devices. All this at a more affordable price point.
Be sure to brush up on how to use fish finders effectively, and you'll be catching those big bass in no time.
---
We like to share product recommendations with you and hope you like them! Just to make you aware FishingLab may collect a small share of sales or other compensation from the links on this page.
---